Electronic Drying Storage Cases/Cabinets have ESD-safe design.
Press Release Summary: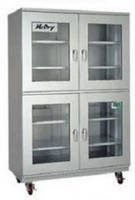 McDry™ feeder cabinet models DXU-580SF and DXU-1002-1000 as well as MCU-401 Economy Value-Added Cabinet enable safe storage of moisture-sensitive devices. Limited number of mechanisms lend to reliability while providing consistent ultra-low humidity level (1% RH without nitrogen) within dry box for years without replacement of desiccant or requiring maintenance. Allowing undisrupted operation, digital RH meter and drying unit work independently.
---
Original Press Release:

Seika Machinery, Inc. of Torrance, CA: Now Offering the Complete Line of McDry Electronic Drying Storage Cases and Cabinets!



McDry Electronic Drying Storage Cases and Cabinets are selected by many electronics manufacturers for high reliability and quality.  The McDry cabinet is the dry box of choice for many EMS such as Celestica, Flextronics, Jabil Circuits, and others.    We have thousands of cabinets installed in North America and globally.  Other dry box suppliers cannot match the record or the quality reputation that McDry holds in the U.S.   We offer a 2-year warranty, twice as long as what other manufacturers normally offer!



McDry cabinet is featured in the DVD-79C, "Handling Moisture-Sensitive Devices" training video that has just come out from IPC.  In fact, they have short demo video that you may see on their website: training.ipc.org/promo/html/extras/orderdvd79c.html   Click on "free demo."



We vacuum pack, box and crate our cabinets for secure shipping and protection. Our cabinets are highly reliable due to the few mechanisms involved yet provide a consistent ultra-low humidity level within the dry box for years to come without replacement of desiccant or requiring maintenance. You may note that other dry cabinets utilize a digital microprocessor control panel embedded in the cabinet shelf which looks attractive. However, this indicator is set to send a signal to another sensor which then connects to the drying unit. If one of these components breaks down, the cabinet becomes non-functional.



With McDry, the RH meter and drying unit work separately. They do not rely on each other so the meter can be taken out for calibration without affecting the drying capability of the cabinet unit. You have safe storage of your moisture sensitive devices without worries for years to come. This is why we have become the leading dry cabinet in Asia and North America for the electronics assembly industry. The competitor dry box was designed to supply all types of applications such as camera storage which is not the ultra-low humidity requirement that our industry specifies.



Seika Machinery is a sales and engineering company specializing in SMT solutions from Japan.  We select, sell, install and provide technical support on all of our machinery for U.S. clients.  Every supplier is a leading brand in the electronics assembly market for Japan and throughout Asia.  Our cabinets are built with high-quality, sturdy material construction and sealing and are ESD protected.  We provide a technical support center in California and should anything happen (which is rare), simply ship us the drying unit and we can service it for you promptly.     .



For more information regarding McDry Electronic Drying Storage Cases and Cabinets, please visit us at http://www.seikausa.com./mcdry. Here you will find a description(s) of the McDry Electronic Drying Storage Cases and Cabinets in further detail.  We have many models in stock and ready to ship.  Feel free to ask for a competitive quotation.  The McDry Electronic Drying Storage Case is the leading dry box in Japan for the SMT industry capturing 95% of the market share.  All of the requirements expected of a top dry cabinet system are fulfilled by McDry including:



~Ultra-low humidity storage of 1%RH WITHOUT nitrogen

~ESD-safety featuring a one mega-ohm resistor for prevention of static electricity

~Strong, high-quality steel construction with lockable doors

~UL/C Models available

~Standard digital RH meter

~Portability with caster wheels (standard with larger models)

~Chart recording and data logging with relay and alarm available as an option

~New!  DXU-580SF/DXU-1002-1000 Feeder Cabinets and MCU-401 Economy, Value-Added Cabinet



Please feel free to contact me should you have any questions on McDry or any of Seika's products.



Michelle Ogihara

Senior Sales Manager/Branch Manager

Sales and Marketing Manager

Seika Machinery, Inc.

Phone   (510) 293-0580

Fax       (510) 293-0940

Email:  michelle@seikausa.com

Website:  www.seikausa.com

More from Laboratory and Research Supplies and Equipment