Dymax Multi-Cure® 9-20557 Conformal Coating Offers Protection Against Thermal Shock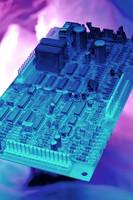 Torrington, Connecticut - November 30, 2016. Dymax Multi-Cure® 9-20557 is designed for rapid conformal coating of printed circuit boards and other electronic assemblies. This MIL-I-46058C listed product is especially formulated to remain on the edges of difficult-to-wet components and sharp leads, while its low modulus allows it to excel in coating applications where thermal shock performance is critical.
Multi-Cure® 9-20557, which is UL approved and meets the IPC -CC-830 standard, has been optimized for coating thicknesses between 51 mic [0.002 in] and 510 mic [0.020 in]. This medium-viscosity material, designed to enhance wetting of leads, is compatible with most types of spray equipment. It fluoresces vivid blue when exposed to UV light (365 nm) for easy inspection of the coating coverage. In addition, its secondary heat-cure feature allows the coating to cure with heat in applications where shadowed areas exist.
For additional information, visit www.dymax.com or contact Dymax Application Engineering at info@dymax.com or 860-482-1010. Dymax Corporation develops innovative oligomer, adhesive, coating, dispensing, and light-curing systems for applications in a wide range of markets. Major markets include aerospace, appliance, automotive, electronics, industrial, medical device, and metal finishing.
Contact:
Nermine Abdel-Hakim
Marketing Communications Specialist
Dymax Corporation
(860) 482-1010
More from Material Processing