Dongle-Sized Interface Kit offers analog inputs and DIO.
Press Release Summary: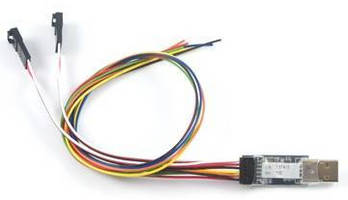 Completely plug-and-play, 1011 - PhidgetInterfaceKit 2/2/2 provides 2 analog inputs, 2 digital inputs, and 2 digital outputs on dongle-sized board that supports USB voltage from 4.75-5.25 Vdc. Respective update rates for analog inputs and DIO lines are 1,000 and ~125 samples/sec. Solution comes with custom 12-wire cable, where wires 1/2/3 and 7/8/9 end with female connector designed to take Phidget sensor cable; other wires are loose. Users decide OS and computer language.
---
Original Press Release:

Phidgets Makes an Interfacekit the Size of a Dongle



Two Analog Inputs, two Digital Inputs, and two Digital Outputs

CALGARY, Alberta - Phidgets Inc. released today the 1011 - PhidgetInterfaceKit 2/2/2 that provides 2 Analog Inputs, 2 Digital Inputs and 2 Digital Outputs on a board the size of a dongle.

"We have cut down the number of ports from 8 to 2 from our very popular PhidgetInterfaceKit 8/8/8 and removed all connectors in order to shrink the size of the board. " says Chester Fitchett, CEO of Phidgets. The InterfaceKit 2/2/2 comes with a custom 12-wire cable where wires 1,2,3 and wires 7,8,9 end with a female connector designed to take the Phidget sensor cable. The other wires are loose.

"At $50.00 CAD, this is a great deal for customers who only need to talk to a couple of devices." added Bernard Rousseau, Director of Marketing

Product Specifications
--Board
-USB Voltage: 4.75 to 5.25 VDC
-USB-Power Current specification: Max 500mA
-Quiescent Current Consumption: 20mA
-Available External Current (source): 480mA
--Analog Inputs
-Impedance: 900K ohms
-SV Reference Error: Max 0.5%
-Update Rate: 1000 samples/second max
--Digital Inputs
-Pull-Up Resistance: 15K ohms
-Low Voltage (True): 0.8V Max
-High Voltage (False): 2.1V Min
-Maximum Voltage: ±15V
-Update Rate: ~125 samples/second
--Digital Outputs
-High Level Source Current: 80mA Max
-Low Level Sink Current: 150mA Max
-Series Resistance: 300 ohms
-Update Rate: ~125 samples/second
--Operating Temperature: 0 - 70°C

Software Environment
"Unlike a lot of our competitor's products that require their users to write some firmware code in order to use their sensor, we are completely "Plug and Play" says Bernard Rousseau, Director of Marketing. "With Phidgets, you plug it in and start using it and when it comes to programming, the user, not us, decides which operating system and which computer language he wants to use", added Rousseau.

Users can program Phidgets using a simple yet powerful and well documented Application Programming Interfade (API) that is supported under Windows (2000, XP, Vista), Windows CE, Mac OS X, and Linux. Users can write programs in Visual Basic, VB.NET, C#, C/C++, Flash/Flex, Java, Labview, Matlab, ActionScript 3.0, and Cocoa.

Phidgets also provides programming examples for all its products to help programmers write their own programs. The API Libraries as well as the examples and the documentation are available at no charge on Phidgets.com.

Pricing and Availability
The 1011 - PhidgetInterfaceKit 2/2/2 is available now. The suggested resale price is $50.00 Canadian.

About Phidgets
Phidgets, Inc. is a technology leader in the design and manufacture of low-cost control and sensing modules connected to personal computers through the USB port. Phidgets products are ideally suited for fast prototyping. The privately held company is based in Calgary, Alberta, Canada.


More from Materials