CVD Graphene Films meet diverse application requirements.
Press Release Summary: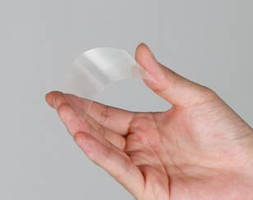 Produced via chemical vapor deposition (CVD) methods, graphene film can be used as transparent conductors and in other applications. CVD graphene on copper foil has copper foil thickness of 0.035 mm, monolayer thickness from 2–3 nm, and film morphology with continuous monolayer >95%. While ultra-clean graphene on SiO2/Si Wafers transfer by PSA films, graphene on quartz glass supports transfer by hot pressing. Graphene on PET, also available, delivers maximum flexibility.
---
Original Press Release:
High-Quality CVD Graphene Films for Innovative Applications
Coraopolis, PA – Through state-of-the-art chemical vapor deposition (CVD) methods, Goodfellow is able to offer a new line of exceptionally high quality graphene film for use as transparent conductors and in other innovative applications.

Standard graphene films available at www.goodfellowusa.com include:

CVD graphene on copper foil
• Copper foil thickness: 0.035mm; Monolayer thickness: 2-3nm; Film morphology: continuous monolayer >95%

Ultra-clean graphene on SiO2/Si Wafers
• Transfer by pressure-sensitive adhesive films

Graphene on PET
• For maximum flexibility

Graphene on quartz glass
• Transfer by hot pressing

In addition to offering standard and non-standard samples, Goodfellow can assist customers with the transfer of graphene film onto their own substrate.

For details of this new line of graphene film, click here (http://www.goodfellowusa.com/news-article/cvd-graphene-films/), call 1-800-821-2870 or email [email protected].

About Goodfellow
Goodfellow is a leading supplier of metals, polymers, ceramics and other materials to meet the needs of science and industry worldwide. The company specializes in supplying small quantities (a few grams to a few kilos) of metals and materials for research, prototype development and specialized manufacturing applications. Standard products can be found online at the comprehensive Goodfellow Catalog. In addition, Goodfellow is often able to supply larger quantities of metals and materials or items manufactured to specific requirements.

Goodfellow Corporation
125 Hookstown Grade Road
Coraopolis, PA 15108
Telephone: 1-800-821-2870
Fax: 1-800-283-2020
E-mail: [email protected]
Web: goodfellowusa.com