Creepfeed Grinding Wheel maximize free-cutting capability.
Press Release Summary: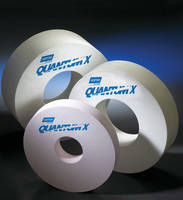 QUANTUM(TM) X Creepfeed Wheel features pore-induced construction, ceramic abrasive, and optimal bond for metal removal, including on wide areas and corners. It is available in blank stock in type 01 Straight Wheel, with 6 sizes ranging from 1 x 16 x 5 in. to 5 x 20 x 8 in., while unfinished blank stock wheels come in various abrasives and grit sizes. Applications range from low to medium and high-force on heat-sensitive inconel, titanium, and aerospace alloys.
---
Original Press Release:

New Norton QUANTUM X Creepfeed Grinding Wheels Provide Highest Free-Cutting Capability



See Norton at IMTS, Booth N-7051, September 10-15, 2012.

WORCESTER, MA, USA - Saint-Gobain Abrasives, the world's largest abrasives manufacturer, has recently introduced Norton QUANTUM(TM) X Creepfeed Wheels featuring three proprietary technologies to create the "ultimate" wheel for free-cutting. The leading Norton technologies that comprise QUANTUM X include a patented pore-induced construction, Norton Quantum ceramic abrasive and the latest, strongest patented bond from Norton. The new wheels are positioned in the "Best" tier of Norton grinding products to provide the best metal removal rates compared to all other ceramic creepfeed wheels.

http://www.nortonindustrial.com//uploadedFiles/SGindnortonabrasives/Documents/CreepfeedWheels-QuantumX-Flyer8335.pdf)

The QUANTUM X wheels are ideal for a variety of applications ranging from low to medium and high-force on heat sensitive, hard-to-grind inconel, titanium and aerospace alloys. These new creepfeed wheels excel on large areas of contact applications and offer exception form and corner-holding.

"QUANTUM X wheels will allow our customers to reduce grinding cycle times up to 50% while using over 20% less power," said Mr. Jim Gaffney, Product Manager at Norton. "These new wheels provide the highest productivity by featuring the longest wheel life combined with the fastest grind cycle time."

Norton QUANTUM X creepfeed wheels are available in blank stock in a type 01 Straight Wheel in six sizes ranging from 16 in. x 1 in. x 5 in. (D x T x H) to 20 in. x 5 in. x 8 in. (D x T x H). QUANTUM X unfinished blank stock wheels are also available in various abrasives and grit sizes and can be quickly customized to meet a user's dimensional requirements.

To learn more about the entire Norton Abrasives Industrial product line, visit (http://www.nortonindustrial.com/)

Quantum X wheels are ideal for aerospace, automotive and energy applications, among others. The following is a good aerospace application:

CASE HISTORY: AEROSPACE ALLOY

PRODUCT:

16" x 5.5" x 5" Norton QuantumX (3NQ60-E24VTX2) creepfeed wheel vs.

16" x 5.5" x 5" Incumbent ceramic creepfeed wheel

APPLICATION:

Turbine blade root form



RESULTS:	         Norton QuantumX       Incumbent Ceramic

TOTAL CYCLE TIME/PART:     18 minutes, 20 seconds   31 minutes, 23 seconds



COST SAVINGS: Norton QuantumX wheels will provide a 29% total cost per part savings and a 41% reduction in total cycle time.

About Norton and Saint-Gobain

Norton is a brand of Saint-Gobain and is a world leader in the manufacturing of abrasive products. For applications from aerospace, foundry and gear grinding, to railroad, toolroom and welding, Norton industrial abrasive products are classified in Good, Better and Best performance / price tiers and are engineered to provide optimal results for specific applications.

Norton encompasses the most complete range of abrasives for the industrial market. Products include coated abrasive sanding belts, sheets, rolls and discs, wire brushes, depressed center wheels, cut-off wheels, cylindrical and centerless wheels, mounted points, non-woven surface finishing products, diamond blades, diamond and CBN wheels, sharpening stones and more. (http://www.nortonabrasives.com/)

With more than 1,000 subsidiaries in 64 countries, Saint-Gobain (http://www.saint-gobain.com/en) is the world's largest manufacturer and distributor of building materials, and a leader in the production of high performance materials, glass containers and abrasives. Founded in 1665 and headquartered in Paris, Saint-Gobain had worldwide sales of $58.6 billion in 2011 and employs approximately 195,000 people. In the United States and Canada, Saint-Gobain employs approximately 19,000 people, and had sales of $7.7 billion in 2011. The company has over 265 locations throughout North America. For more information about Saint-Gobain in North America, visit (http://www.saint-gobain-northamerica.com/).

Contact:

Abby Marschke

Saint-Gobain Abrasives, Inc.

(508) 795-2614

abby.b.marschke@saint-gobain.com

More from Electronic Components & Devices