Copper-Filled Grease suits heat transfer applications.
Press Release Summary: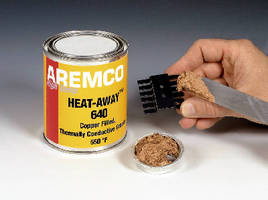 Consisting of single-part, 100% solids, thermally conductive, silicone grease, Heat-Away™ 640 is used in heat transfer applications from -60 to 550°F. Product is formulated as thick paste that will not flow after application and maintains stable viscosity over entire temperature range. With thermal conductivity of 4.68 W/m-K, grease optimizes thermal transfer between heaters and process vessels and various heat sinks used in heat exchangers in electrical and electronic applications.
---
Original Press Release:

Heat-Away 640 Thermally Conductive Copper Grease Now Available



Heat-Away™ 640, a new high temperature, thermally conductive, copper-filled grease developed by Aremco Products, Inc., is now used in heat transfer applications from –60 to 550 ºF (-51 to 288 ºC).



Heat-Away™ 640 is a single-part, 100% solids, copper-filled, thermally conductive, silicone grease used in heat transfer applications from –60 to 550 ºF (-51 to 288 ºC). Heat-Away™ 640 is formulated as a thick paste that will not flow after application and the viscosity remains stable over the entire temperature range. The thermal conductivity is 4.68 W/m-K.



Heat-Away™ 640 is used to improve the thermal transfer between heaters and process vessels and various heat sinks used in heat exchangers in electrical and electronic applications. Heat-Away™ 640 is supplied in standard pint, quart, gallon and five gallon containers from stock.



Please contact Aremco's Technical Sales D1partment for more information about this advanced thermally conductive grease.



Technical technical@aremco.com

Orders orders@aremco.com

Pricing quotes@aremco.com

MSDS msds@aremco.com

More from Paints & Coatings