Concentric Clamping Vises suit space-restricted areas.
Press Release Summary: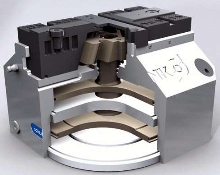 With mono-block design, PZS pneumatic clamping vise and HZS hydraulic clamping vise have no interface between cover and base body. Mechanical seal avoids chip contamination of jaw guides, and central lubrication system protects base jaws and wedge hook system against wear. Due to double air connections on bottom side, PZS can be turned 90° to change clamping orientation. Both versions are square in shape and come in 110, 170, and 250 mm sizes.
---
Original Press Release:
New TANDEM PZS And HZS Concentric Clamping Vises Combine High Clamping Forces With Long Jaw Strokes

SCHUNK introduces a new line of concentric clamping vises, the PZS pneumatic clamping vise and the HZS hydraulic clamping vise. Both units stand out from the crowd with outstanding clamping forces and long jaw strokes.

Due to the mono-block design of the unit, there is no interface between the cover and the base body of the vise. This results in higher accuracy and stiffness of the unit. In order to achieve consistent clamping results, a special mechanical seal avoids chip contamination of the jaw guides. A central lubrication system is available to protect the base jaws and the wedge hook system against wear by covering the components with a lubricating film. As a standard, the vises can be lubricated via easily accessable grease fittings. Due to the double air connections at the bottom side, the PZS clamping vise can simply be turned 90° to change the clamping orientation.

Both versions of this vise have a square shape and are available in sizes 110, 170 and 250 mm. The pneumatic version, PZS-D, is also available with a double-acting cylinder. The resulting piston area and the clamping force of the D-version are doubled. To actuate the pneumatic version of these clamping vises, compressed air between 6 and 9 bar is required. The hydraulic version HZS can operate at a maximum hydraulic pressure of 120 bar. The low profile housings of these concentric vises are designed for low space requirements and are made of a forged wear resistant material to withstand extremely high forces.

SCHUNK offers an extensive variety of top jaws for these concentric vises. The units can be assembled on a standard SCHUNK base plate that can be equipped with a pressure maintenance valve. This allows the clamped workpiece and vise to be moved without input pneumatic pressure hoses. These vises can be applied to rotary tables, tombstones or can be mounted directly onto the machine table.

Combined with the UNILOCK Quick Change Pallet System, SCHUNK offers additional potential to reduce set-up times.

SCHUNK INC.

211 Kitty Hawk Drive

Morrisville, North Carolina 27560

Phone: 919.572.2705 or

800.772.4865

Fax: 919.572.2818

www.schunk-usa.com

info@schunk-usa.com
More from Computer Hardware & Peripherals