Chemlok Film Adhesive eliminates the need for applying multiple coats for bonding rubber-to-metal.
Press Release Summary: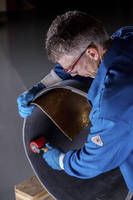 Suitable for lining tanks and pipes, Chemlok® Film Adhesive requires a single application to bond rubber-to-metal. Eliminating use of SCBA equipment during application, Adhesive can be safely applied in confined spaces without fear of explosion or asphyxiation. The option to pre-laminate uncured rubber substrates, reduces the steps needed to complete the rubber lining process. Having high-tack strength, Film can retain tack strength over a wide range of application temperatures.
---
Original Press Release:
LORD Corporation Develops New Solvent-Free Adhesive Film Technology for Rubber
LORD Corporation - a leader in the development of adhesives, coatings, motion management devices, and sensing technologies - has introduced a new Chemlok® Film Adhesive for bonding unvulcanized rubber-to-metal.

The adhesive replaces up to four layers of solvent-based primers, adhesives and tack cements with one easy-to-use, 100-percent VOC-free film.

Currently, solvent-based adhesives are used for bonding rubber-to-metal in the tank and pipe lining industry. These adhesives are time-consuming to apply, and pose health and safety hazards for workers. A typical tank-lining procedure requires up to four layers of solvent-based adhesive. Each solvent layer requires 30-to-40-minutes of drying time before the next layer can be applied. Every 100-square-meters of rubber-lining using solvent-based adhesives requires 25-to-35-kilograms of solvent.

According to Andrew Heidenreich, Senior Scientist at LORD Corporation, "Chemlok Film Adhesive simplifies the traditionally labor-intensive process by eliminating the need for applying and drying up to four coats of wet adhesive and tack cement." The film adhesive can be used for lining tanks or pipes that convey corrosive solutions such as liquid chemicals, acids, bleaching agents, oils, or salt water.

Worker safety is also improved by eliminating the risk of explosion and asphyxiation associated with applying solvent-borne adhesives in a confined space. No SCBA equipment is required during application when used as a stand-alone product.

To improve process efficiency, Chemlok Film Adhesive can be pre-laminated to uncured rubber substrates, further reducing the number of steps required to perform rubber lining. "Pre-laminating the film to the liner, takes the adhesive application process outside of the tank," noted Heidenreich. "The pre-laminated film can then be applied directly to the metal surface in one step."

The film adhesives have high-tack strength to hold the rubber liner in place once applied, and retain their tack strength over a wide range of application temperatures, yet allow for repositioning before curing ensuring a proper, tight fit. Once applied to the metal substrate, elastomers can be stitched and worked in the standard fashion. After curing, a robust, 100%-rubber-tearing bond, with excellent chemical resistance, is achieved to a variety of elastomers. With the introduction of Chemlok Film Adhesive, LORD now offers multiple solutions to the tank-lining industry: solvent-based adhesives; low-VOC, reduced-solvent adhesives; or solvent-free adhesives. The company is also exploring new applications in other industries that would benefit from the solvent-free technology.

About LORD Corporation

LORD Corporation is a diversified technology and manufacturing company developing highly reliable adhesives, coatings, motion management devices, and sensing technologies that significantly reduce risk and improve product performance. For more than 90 years, LORD has worked in collaboration with our customers to provide innovative oil and gas, aerospace, defense, automotive and industrial solutions. With world headquarters in Cary, N.C., LORD has approximately 3,100 employees in 26 countries and operates 19 manufacturing facilities and 10 R&D centers worldwide. LORD actively promotes STEM education and many other community engagement initiatives. For more information, visit http://www.lord.com.

For more information on Chemlok Film Adhesives,
call us at +1 877
ASK LORD (275 5673),
email us at Customer.Support@lord.com
or visit us on the web at LORD.com.

LORD Corporation

111 Lord Drive Cary,
NC 27511
www.lord.com
Contact: Kim Richardson,
336-970-7888
kimberly_richardson@LORD.com
More from Cleaning Products & Equipment