Chemline 2265 is Third Party Certified to Meet/Exceed All AWWA C222-08 Requirements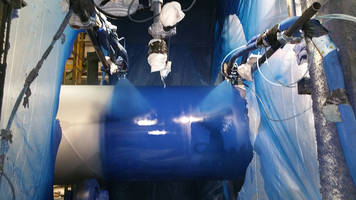 St. Louis, MO – Chemline, Inc., specifically formulated CHEMLINE 2265 as an interior lining and an exterior coating for large diameter transmission lines of potable water, waste water, and raw water. The formulation adheres extremely well directly to steel and requires no primer. CHEMLINE 2265 adds long-term corrosion protection to steel substrates in even the most demanding environments. It provides an exceptional barrier against chemical corrosion of steel walls, pipes and fittings. CHEMLINE 2265 is certified to meet ANSI/NSF 61 standards for potable water by Underwriters Laboratory. It is also certified (3rd party) to meet or exceed all requirements of AWWA C222-08 protocol.
CHEMLINE 2265 is a fast-set, spray applied, two-component polyurethane coating that contains 100% solids and zero VOCs. For expedited productivity and reduced labor cost, it has a "cure to touch" time of two minutes and a recoat window of two hours.
Physical properties of CHEMLINE 2265 include:
         Hardness                            Shore 77 D
         Adhesion to Steel                3850 psi
         Impact Resistance               570 pli
         Ultimate Elongation              6 %
Application of CHEMLINE 2265 is easy with a 1:1 high pressure, plural component mix ratio. Chemline recommends Graco Reactor E-XP1 or H-XP2. Chemline is also a GRACO HPCF Top 20 Advanced Distributor and can provide training on the use of the liquid materials, as well as the proportioning equipment and spray guns.
ABOUT CHEMLINE
Founded in 1997, Chemline is an industry leader in fast-set polyurethane and polyurea coatings. The company's 100% solids, spray-applied products are used by OEMs and applicators around the world as protective coatings for metal, wood, concrete, foam and other materials. Chemline operates a 170,000 sq. ft. plant at its headquarters in St. Louis, Missouri, with an additional manufacturing facility in Los Angeles, California. For more information, please visit www.chemline.net or call 314.664.2230.
More from Mechanical Power Transmission