Chemical Resistant, Two Part Epoxy Features Glass Transition Temperature of +240°C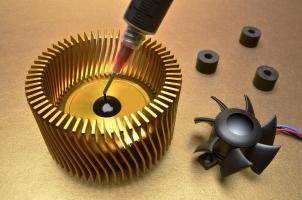 Widely used in the electronic, aerospace, optical and specialty OEM industries, Master Bond EP126 excels in high temperature applications up to +600°F. This two component product features unique handling properties as Part A is a moderate viscosity liquid and Part B is a powder. It can be easily mixed using a forgiving 100 to 50 ratio by weight. The mixed system is a malleable paste, with an exceedingly long open time of more than 5 days for a 100 gram batch. The curing is straightforward; 3-4 hours at 300°F or 2-3 hours at 350°F.
EP126 adheres well to many substrates including metals, composites, glass, ceramics, rubbers and many plastics. It offers a high tensile lap shear strength, tensile modulus and compressive strength of over 2,800 psi, 425,000-475,000 psi and 32,000-34,000 psi, respectively. This epoxy compound resists a variety of chemicals such as water, oils, acids, bases and many solvents. Additionally, it is formulated as a toughened system allowing it to withstand rigorous thermal cycling.
EP126 is dimensionally stable, has low shrinkage upon curing and is machineable. It also is a very good electrical insulator, especially as it retains high dielectric strength at elevated temperatures. When used as an adhesive and sealant, EP126 can be conveniently applied with a spatula or knife. This product has a service temperature range of -80°F to +600°F. EP126 features a shelf life of 6 months in its original, unopened containers and is available in kits ranging from ½ pints to 5 gallons.
Master Bond High Temperature Resistant Adhesives
Master Bond EP126 is a toughened, high temperature resistant epoxy with superior strength properties. This chemical resistant system has excellent electrical insulation properties.
Read more about Master Bond's high temperature resistant adhesives at http://www.masterbond.com/properties/high-temperature-resistant-bonding-sealing-and-coating-compounds
or contact Tech Support. Phone: +1-201-343-8983 Fax: +1-201-343-2132 Email: technical@masterbond.com.
For a full product description, please visit: http://www.masterbond.com/tds/ep126
 You can embed any of our videos on your website.
CONTACT
James Brenner, Marketing Manager
Email: jbrenner@masterbond.com
Tel: +1-201-343-8983
Fax: +1-201-343-2132
MASTER BOND INC.
154 Hobart Street Hackensack, NJ 07601-3922
Web: www.masterbond.com