Ceramic Putty Bonds, Repairs, Seals & Insulates
Press Release Summary: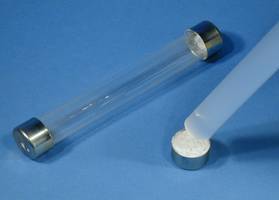 Made from high purity alumina oxide ceramics and ceramic binders, Thermeez 7020 cures at room temperature for resistance to heat, electricity, molten metals, most chemicals, and oxidation. Product is dispensed with one push from dispenser tube or 11 oz caulking cartridge. Providing equivalent of plastic wood, Thermeez 7020 air-dries to hard ceramic body delivering instant repairs to ceramics, bricks, mortar, burner blocks, insulation furnaces, and thermocouples.
---
Original Press Release:
3000°F Ceramic Putty is the Perfect, Ceramic Equivalent to Plastic Wood; Bonds, Repairs, Seals & Insulates in Minutes
Summary New, moist, creamy, 3000°F, putty that will satisfy many application requirements with just one push from a standard caulking cartridge. This high temp, putty cures at room temperature for excellent resistance to heat, electricity molten metals, most chemicals, oxidizing and reducing atmospheres, etc. High Purity Thermeez 7020, 3000°F, Ceramic Putty is made from High Purity, Alumina Oxide Ceramics and Specialty Ceramic Binders. Easy to Use 7020 putty is easily dispensed with just one push from a handy dispenser tube or 11 oz. caulking cartridge. It air dries to form a hard ceramic body. It is the perfect, ceramic equivalent to "Plastic Wood", Excellent Properties Thermeez Putty provides excellent resistance to heat and electricity, molten metals, most chemicals, oxidizing and reducing atmospheres. Applications Include Instant repairs to ceramics, bricks, mortar, burner blocks, insulation furnaces, holders, thermocouples, etc. Construction of custom heating elements, molding and bonding ceramic fiber components, etc. Users Report *7020 repaired sand castings used in a lost wax manufacturing process. The castings were then used for casting large, decorative parts for top line motorcycles. *7020 repairs cracked / damaged ceramic insulation eliminating the need for costly repairs saving time and money. Thermeez 7020, 3000°F Ceramic Putty is available in easy to use 4 oz. Dispenser Tubes for $ 9.95 or in 11 oz. Caulking Cartridges for $17.95. Each package comes complete with instructions and Cotronics' FREE HIGH TEMPERATURE Materials handbook. All of Cotronics' Products are Formulated for Ease of Use and With Safety in Mind