Carrier Cards connect I/O modules to CompactPCI computer.
Press Release Summary: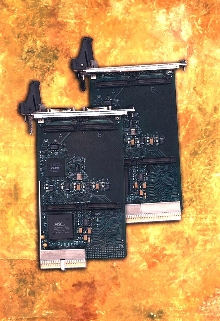 ACPC8630 and ACPC8635 nonintelligent slave boards interface IndustryPack mezzanine I/O modules to computer. User can mix and match analog, digital, serial, or other I/O modules on 3U carrier cards to produces customizable I/O boards with high channel density, thus saving card cage slots. Carriers are plug-and-play compatible, support 2 interrupts per module, and provide individually filtered and fused power.
---
Original Press Release:

New 3U CompactPCI(R) IndustryPack(R) Carrier Cards Interface Two I/O Modules with Front or Rear I/O Access


Wixom, MI: Acromag's new ACPC8630 and ACPC8635 (both $450) are nonintelligent slave boards that interface two IndustryPack (IP) mezzanine I/O modules to a CompactPCI computer system. Mixing and matching various analog, digital, serial or other I/O modules on these 3U carrier cards produces customizable I/O boards with very high channel density to save card cage slots and lower costs. The carriers are plug-and-play compatible, support two interrupts per module, and provide individually filtered and fused power to each IP. Full access to the IP's I/O, ID and interrupt spaces allows control from the CompactPCI bus.

The ACPC8630 model brings all 100 I/O points out the two high-density front connectors for easy cable access. It is compatible with all CompactPCI CPUs and resides in memory space. Both 32-bit and 64-bit CompactPCI and PXI' backplanes are supported.

On ACPC8635 models, I/O points are brought out the rear J2 connector. This convenience eliminates messy cables from hanging out the front of the card cage. In addition to a more efficient wiring design, it is also much easier to insert and replace other system boards. And with Acromag's 80mm transition module (TRANS-Cl 00), interface cable (5025-550), and termination panel (5025-552) the I/O channels are easily ported out the back of the card cage chassis.

The shorter 3U card cage is ideal for embedded computer systems in industrial, military, and aerospace applications, whereas the double-height 6U chassis is the choice for telecommunications. Costs are much lower and the card cages are easier to install in locations with little available space such as inside industrial machinery or on board vehicles

For easy integration of the carrier card and IP modules with real time software programs and Windows® 95/98/NT® applications, Acromag offers C libraries for VxWorks and an ActiveX® (OLE) controls software package. The libraries provide generic routines (source code included) to handle reads, writes, interrupts, and other functions. ActiveX controls are object-based software components that function as drivers to interface the IP modules with compatible software development programs such as Microsoft Visual C++(TM) and Visual Basic®. ActiveX controls can also link l/O data to Human Machine Interface (HMI) process control applications, data acquisition programs like LabView®, and Microsoft Office® products such as Excel® and Access®.

The IP mezzanine's modular format enables multiple functions and high-density I/O on a single board to lower costs and save card slots. With its rugged design, open architecture, and high performance, the IP concept is ideal for a wide variety of I/O applications. Typical uses include data acquisition, process control, test & measurement, motion control, and network data communication.

More from Controls & Controllers