Universal Process / Temperature Controllers
BriskHeat Offers New Temperature Controllers with Fast-Adaptive-Tuning Technology
Press Release Summary: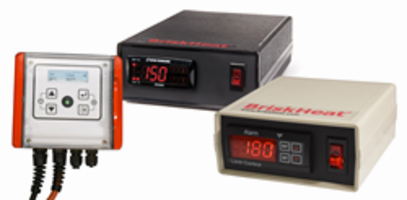 Available in SDX, HL101 Series and BH-330 In-Line and BH-510 models
The SDX controller is approved to cULus and CE standards and suitable for laboratory or indoor applications
BH-330 comes with IR remote control and designed for wet and outdoor areas
---
Original Press Release:
BriskHeat Introduces Three New Controller Options to Complement Its Surface Heater Offerings
New Controllers with a Variety of Features Better Meet Customer Requirements
COLUMBUS, OHIO (PRWEB) MAY 31, 2019 - Today, BriskHeat, a leading provider of flexible heating, insulating and temperature control solutions, announced three new controllers to complement its surface heater offerings. The new controllers include: 
The SDX Digital PID Temperature Controller: An affordable, compact cULus and CE- approved benchtop controller, it's ideal in a laboratory environment or any indoor application where accurate control is required. The SDX Digital PID Temperature Controller's smaller size makes it easy to set up and move to wherever it's needed. Universal voltage from 100 – 240 VAC with a 15 amp relay adds to its versatility.
HL101 Series Digital Benchtop Temperature Limit Controller: Built-in temperature control adds current cutoff to existing temperature controllers or devices. To prevent the sensed surface from exceeding a programmed high-limit setpoint temperature, the HL101 adds high-limit cutoff safety to a wide range of applications. The HL101 features benchtop plug-and-play design for dry-environment use.
BH-330 In-Line and BH-510 Digital Wet-Area Controllers: Designed for use in wet or outdoor areas, both controllers feature Fast-Adaptive-Tuning technology, optimizing the controller to adjust the logic between the setpoint temperature and the actual temperature. The BH-330 in-line temperature controller with IR remote control provides an "all-in-one" solution for process heating and control in an easy-to-install unit. The BH-510 outdoor temperature controller can be used in applications where high accuracy is required.
"BriskHeat's three new controlling options better meet customer requirements while complementing our surface heater offerings," said Patrick Doyle, Vice President of Business Development. "BriskHeat's mission is to introduce products that our customers need, and these new controllers are great examples of products that fit into that mission."
Applications include: 
Research and development
Process heating
Laboratory testing
Freeze protection
For more information on the controllers, visit https://www.briskheat.com/news-events/3-new-controller-options/. To see the full range of BriskHeat's flexible heating solutions, visit the web site or call 888-501-7491.
About BriskHeat 
Since 1949, BriskHeat has provided flexible heating solutions used for freeze protection, condensation prevention, flow/viscosity control, vacuum bake-out, composite curing, and temperature process control. BriskHeat's primary manufacturing facilities and headquarters are located in Columbus, Ohio. BriskHeat has a worldwide sales network including sales offices in Taiwan, China, Germany, and France, as well as a manufacturing facility in Vietnam. In 2017, BriskHeat was named to the Inc. 5000 list of fastest-growing private companies in America. In 2018, BriskHeat became part of NIBE Industrier AB, a global group of manufacturing companies with over 15,000 employees worldwide. Follow BriskHeat on Twitter (@BriskHeat), on Facebook or on LinkedIn.
Contact Information
Craig Wilson
BriskHeat
http://www.briskheat.com
8884120122
Related