Benchtop Oscilloscope offers high-level features.
Press Release Summary: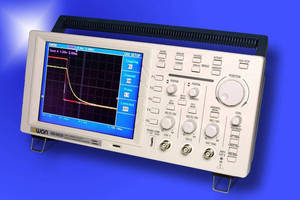 Model PDS5022S, 2-channel oscilloscope allows auto-scale to be set to automatically adjust vertical gain, horizontal time base, or both. Its FFT function shows frequency spectrum of signal under test, and trigger hold adds delay relative to trigger point to see different part of signal. Unit includes 7.8 in. color LCD, buffer size of 6 Ksamples, and USB output. Allowing 400 V maximum input, self-calibrating unit supports 100 MS/sec sampling rate and up to 5 automatic measurements.
---
Original Press Release:

Saelig Debuts New features for Low-cost Oscilloscope



Pittsford, NY, USA: Saelig Company, Inc. announces new features for the PDS5022S low-cost, full-featured 25MHz two-channel benchtop oscilloscope. The new features are: Auto-scale, FFT, and trigger hold, normally found on much more expensive instruments.

o Autoscale can be set to automatically adjust the vertical gain, or the horizontal time base, or both together. This is useful for circuit probing - as the probe is moved from point to point on a circuit board, the display auto-adjusts for best trace presentation. It functions in the same manner as 'AutoSet', but instead of being a one-time function, it's active until turned off, keeping the hands free.

o FFT allows you to instantly see the frequency spectrum of the signal under test.

o Trigger Hold allows you to introduce a delay relative to the trigger point so that a different part of the signal can be seen.

Low-cost 2-channel PDS5022S is packed with useful features normally only seen on higher-end DSO's: video trigger, auto-measurements, large 8 in. full color LCD display, 100MS/s sampling, XY Mode, auto- set, averaging, math functions, USB output, waveform storage, 3 yr warranty, etc. PDS5022S can automatically measure and display frequency and peak-peak/rms/mean values, but cursors can also be moved to make individual readings. A built-in self-calibration facility improves measurement accuracy. Video monitoring is also possible since you can trigger on NTSC/PAL/SECAM line or field waveforms. PDS5022 offers on-board storage, and USB output, making the PDS series the ideal choice for design, maintenance and lab use. PDS5022's features include: manual cursor measurements, up to 5 automatic measurements, high-speed screen update, storage for up to 4 waveforms & set-up parameters, 6KBytes/ch memory, convenient serial interface with software, 400V (DC+AV peak) maximum input, optional rechargeable Battery Pack, etc. PDS5022S has multi-language capabilities too!

This lightweight scope is perfect for any engineer s or student s desk. USB connection makes printing stored results easy too. With a large 7.8 640 x 480 color LCD, PDS5022S is small enough and light enough to carry anywhere you need. With a buffer size of 6K samples, PDS5022S sampling range is 10Sa/s to 100MSa/s with synchronous 8-bit sampling on both channels. Sensitivity range is 5mV/div~5V/div with maximum display of ±50V. Another really useful feature is the ability to store 4 waveforms for comparison with live inputs. A persistence control is available too which simulates old analog scopes to compare slow-moving waveforms with previous scans. X-Y display allows you to see phase changes. A+B and A-B math capability is also included.

Resembling much more expensive look-alikes, PDS5022S offers unbeatable value and is available now from stock at only $287.00 from Saelig Co. Inc. Pittsford NY. info@saelig.com For detailed specifications, free technical assistance, or additional information, please contact Saelig (toll-free in the US) 1-888-7SAELIG, via email: info@saelig.com, or visit www.saelig.com

Contact Information

email: info@saelig.com

phone / fax: 585-385-1750 / 585-385-1768

web: www.saelig.com

Saelig Company Inc | 1160-D2 Pittsford-Victor Road | Pittsford | NY | 14534

More from Controls & Controllers