Ball Valves have 2 ball seals, one for each port.
Press Release Summary: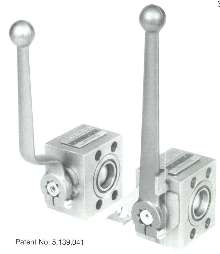 Featuring steel construction with hard chrome plated ball, INSERTA(TM) Flange Type, 2 Port Ball Valves can be installed on or between other components by bolting them together. Assemblies eliminate threaded pipe connections, and adjoining components are face sealed with leak-resistant O-ring. Top of stem has slot that indicates direction of hole that goes through 2-port ball valve element. Straight aluminum handle is standard with flat stop plate.
---
Original Press Release:

Inserta(TM) Flange Type, 2 Port Ball Valves


INSERTA(TM) FLANGE TYPE, 2 PORT BALL VALVES provide a simple means to install a ball valve in a circuit that uses any of the offered 4-Bolt flange mounting patterns. These ball valves can be installed on or between other components such as pumps, motors, actuators, filters, valves, and manifolds simply and effectively by bolting them together. These assemblies eliminate threaded pipe connections, and the adjoining components are face sealed with the preferred leak resistant O-ring.

The INSERTA(TM) Flange Type, 2 Port Ball Valves have two ball seals, one for each port i.e ports 0 and 1. The top of the stem has a slot that indicates the direction of the hole that goes through the two-port ball valve element. When the slot is in line with ports 0 and 1 the valve is open and permits flow between these two ports. When the valve is in the closed position the port that sees the higher pressure pushes the ball against the ball seal of the opposing port side. The sealing characteristics of these valves provide a seal that can save time and money, eliminate piping leaks, and add value and integrity to integrated hydraulic systems.

The straight aluminum handle is standard with the flat stop plate. Aluminum and Steel offset handles are also available and are standard for use with the lockable stop plate. Standard ball valve handle mounting is with port 0 open to port 1 when the handle is turned counterclockwise and the ports are closed when the handle is turned clockwise. These ball valves are of steel construction with a hard chrome plated ball.

Mary Anne Ries
Marketing