Atomic Force Microscope offers several operational modes.
Press Release Summary: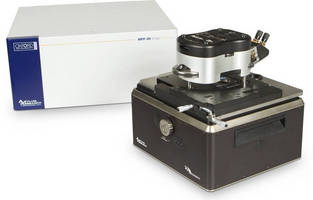 Delivering closed-loop precision, Hi-Res imaging, and low-noise force measurements, MFP-3D Origin™ offers basic scan modes as well as nanolithography, Dual AC™, and piezoresponse force microscopy modes. Additional functionality may be added for optional modes such as conductive AFM, AM-FM viscoelastic mapping for nanomechanical analysis, scanning tunneling microscopy, and scanning thermal microscopy. Unit can be upgraded to full MFP-3D to utilize environmental and application accessories.
---
Original Press Release:

Asylum Research Introduces the MFP-3D Origin(TM) AFM - a High Performance, Affordable Atomic Force Microscope



Santa Barbara, CA -- Asylum Research, an Oxford Instruments company, announces the new MFP-3D Origin Atomic Force Microscope (AFM). The MFP-3D Origin is at the intersection of performance and affordability in the Asylum Research MFP-3D™ AFM family. The MFP-3D Origin features the technical excellence, innovation, and world-class customer support that is the trademark of every Asylum AFM. With full upgrade potential to the MFP-3D and its complete range of accessories, the MFP-3D Origin is the best place to start with atomic force microscopy.



"We are very excited that we can now bring the high performance capabilities of the MFP-3D to a larger group of researchers," commented Ben Ohler, AFM Business Manager. "Since not all customers require its most advanced accessories and features, we were able to reduce costs there instead of sacrificing core performance. This is in stark contrast to some competitors who have taken old technology and repackaged it as entry-level AFMs with lower performance. We have heard many times over that 'if I had the funds, I would buy an Asylum'. The MFP-3D Origin allows limited research budgets to be focused on what's most important – leading closed-loop resolution and performance, robust reliability, and of course, the unmatched customer support you get when you become an Asylum customer."



The performance and modern features of the MFP-3D Origin surpass all competitors in its class. It is based on the technology-leading MFP-3D AFM, known for closed-loop precision, high-resolution imaging, and low-noise force measurements. The MFP-3D Origin offers far more than just the basic scan modes. It includes many advanced modes–nanolithography, Dual AC™ Mode, and piezoresponse force microscopy– at no extra charge. Additional advanced functionality is easy to add for optional modes such as conductive AFM, AM-FM Viscoelastic Mapping for nanomechanical analysis, scanning tunnelling microscopy (STM), and scanning thermal microscopy (SThM).



As your research grows, so can the MFP-3D Origin's capabilities. The MFP-3D Origin can easily be upgraded to the full MFP-3D to take advantage of the numerous environmental and advanced application accessories. In addition, the MFP-3D Origin carries a full two year warranty – the best warranty in its class. It's a smart investment in a proven AFM platform that will serve you well for years to come.



For additional information or a quotation on the MFP-3D Origin, please contact Asylum Research at sales@asylumresearch.com, or see our website at www.AsylumResearch.com/Origin



About Asylum Research, an Oxford Instruments company

Asylum Research is the technology leader in atomic force microscopy for both materials and bioscience applications, dedicated to innovative instrumentation for nanoscience and nanotechnology. Founded in 1999, Asylum Research has over 300 years combined AFM/SPM experience among our staff. Asylum Research AFMs are used for a variety of nanoscience applications in material science, physics, polymers, chemistry, biomaterials, and bioscience, including single molecule mechanical experiments on DNA, protein unfolding and polymer elasticity, as well as force measurements for biomaterials, chemical sensing, polymers, colloidal forces, adhesion, and more.



Asylum's MFP-3D™ family of AFMs sets the standard for AFM technology, with unprecedented precision and flexibility. Four configurations now comprise the MFP-3D family. The MFP-3D Origin, the most affordable member, offers performance and full upgrade potential. The full MFP-3D provides performance with the maximum versatility of a wide range of modes and accessories. The MFP-3D-BIO™ is the only full capability AFM integrated with commercial inverted optical microscopes for advanced bioscience research. In addition, our MFP NanoIndenter™ offers the only true instrumented indenting for quantitative measurements.



The Cypher™ AFM is the highest resolution fast scanning AFM, now with environmental control. Cypher provides low-drift closed loop atomic resolution for the most accurate images and measurements possible today, point defect atomic resolution, >20X faster AC imaging with small cantilevers, Spot-On™ automated laser and photodetector alignment for easy setup, integrated thermal, acoustic and vibration control, and broad support for all major AFM/SPM scanning modes and capabilities.



Asylum Research offers the best warranties in the industry, ranging from two to five years, along with unmatched customer support.



About Oxford Instruments plc

Oxford Instruments designs, supplies and supports high-technology tools and systems with a focus on research and industrial applications. It provides solutions needed to advance fundamental physics research and its transfer into commercial nanotechnology applications. Innovation has been the driving force behind Oxford Instruments' growth and success for over 50 years, and its strategy is to effect the successful commercialization of these ideas by bringing them to market in a timely and customer-focused fashion.



The first technology business to be spun out from Oxford University over fifty years ago, Oxford Instruments is now a global company with over 2000 staff worldwide and is listed on the FTSE250 index of the London Stock Exchange (OXIG). Its objective is to be the leading provider of new generation tools and systems for the research and industrial sectors.



This involves the combination of core technologies in areas such as low temperature, high magnetic field and ultra high vacuum environments, Nuclear Magnetic Resonance, X-ray, electron and optical based metrology, and advanced growth, deposition and etching.



Oxford Instruments aims to pursue responsible development and deeper understanding of our world through science and technology. Its products, expertise, and ideas address global issues such as energy, environment, security and health.



For further information please contact:

Asylum Research

Terry Mehr, Director of Marketing

terry.mehr@oxinst.com

805-696-6466

Related