Adhesives for Your Specific Need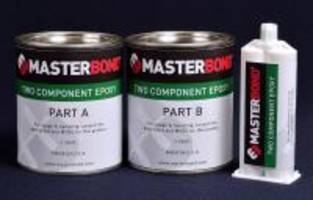 EP41S-5: Chemical Resistant Epoxy Withstands Methylene Chloride
EP41S-5 has exemplary resistance to a wide array of chemicals, such as acids, bases, alcohols, fuels and many solvents. This two part epoxy is widely used for bonding, sealing and coating, as well as encapsulating. This system combines formidable physical strength properties and electrical insulation values. EP41S-5 offers convenient handling with a 100 to 25 mix ratio by weight. The mixed epoxy has good flow properties with a moderate viscosity of 25,000-30,000 cps. It bonds well to a wide variety of substrates including metals, composites, glass, ceramics, as well as many rubbers and plastics.
For more information, request a data sheet on EP41S-5 (http://click.skem1.com/click/fdi9a-aa9eaq-13mg5468/)
EP29LPAO: Thermally Conductive & Electrically Insulative System
EP29LPAO is a two component epoxy well suited for potting and encapsulating, even in large volumes. This product has a low exotherm, a long working life of 7-9 hours at room temperature for a 100 gram mass, excellent flow properties and ambient/low temperature curing characteristics. Additionally, EP29LPAO offers an outstanding strength profile, with a tensile modulus of 450,000-500,000 psi and a compressive strength of 24,000-26,000 psi at 75°F. Adhesion to a wide range of substrates such as metals, glass, ceramics and many plastics is excellent.
For more information, request a data sheet on EP29LPAO (http://click.skem1.com/click/fdi9a-aa9eas-13mg5460/)
EP90FR-H: Flame Retardant Epoxy Passes Horizontal Burn Test
EP90FR-H is a two part, high strength epoxy system that complies with FAR standard 14 CFR 25.853(a) for flame retardancy. This moderate viscosity epoxy has excellent strength properties and can be considered for use in specialized applications in aircraft and related assemblies. Some potential uses for this non-halogenated system include baggage equipment areas, aircraft windows and lighting assemblies, among others.
For more information, request a data sheet on EP90FR-H (http://click.skem1.com/click/fdi9a-aa9eau-13mg5462/)
MasterSil 980: Two Part Fluorosilicone Features Outstanding Chemical Resistance
MasterSil 980 is a fluorosilicone system for bonding, sealing, coating and encapsulating. Compared to traditional silicones, this system withstands gasoline, diesel fuel, motor oil, ethanol and many other alcohols. MasterSil 980 is an addition cured system that does not require air or humidity for curing. It adheres well to many substrates and can resist the most aggressive types of thermal cycling as well as mechanical shock.
For more information, request a data sheet on MasterSil 980 (http://click.skem1.com/click/fdi9a-aa9eaw-13mg5464/)
EP21TDC-4: Room Temperature Curing Epoxy Has High Peel Strength
Highly flexible EP21TDC-4 is a two part epoxy for bonding, sealing and coating applications. It has a high peel strength of 30 pli and an elongation of over 200%. This system can be cured at ambient temperatures or more rapidly at elevated temperatures and bonds well to both similar and dissimilar substrates. It is recommended for adhesion to natural rubber compounds without time consuming surface preparation procedures. EP21TDC-4 can even be cured under water. Bonds have excellent resistance to vibration, impact and shock. It has superior resistance to fuels, water, oils and many chemicals.
For more information, request a data sheet on EP21TDC-4 (http://click.skem1.com/click/fdi9a-aa9eay-13mg5466/)
UV15DC80Med: UV & Heat Curable, Medical Grade Epoxy System
UV15DC80Med is a dual cure epoxy based system that offers a primary cure using UV light along with a secondary heat cure that can be initiated at the low temperature of 80°C. This system was formulated for medical device assembly applications. It meets USP Class VI specifications and passes ISO 10993-5 cytotoxicity testing. UV15DC80Med has very good temperature resistance along with the ability to withstand sterilization exposure including liquid sterilants, radiation and even autoclaving. It requires no mixing, is solvent free and exhibits excellent physical strength properties.
For more information, request a technical data sheet on UV15DC80Med (http://click.skem1.com/click/fdi9a-aa9eb0-13mg5464/)
Master Bond
Email:newsletters@masterbond.com
Phone:+1 201 343 8983
More from Adhesives & Sealants