Adhesive/Sealant has service range of -75 to 500°F.
Press Release Summary: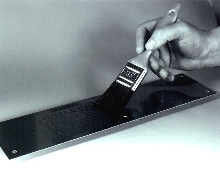 Polymer System X5HT one component, contact type adhesive/sealant offers dimensional stability and creep- and chemical-resistance. Curing process requires application to each substrate, application of pressure (less than 50 psi), and curing at 300 to 400°F for 15 to 30 min in vented oven. X5HT adheres to metals, polymers, composites, glass, and ceramics. Lap shear strength values range from 1400 to 1350 psi.
---
Original Press Release:

New One Component Contact Adhesive/Sealant, Featuring Toughness & Flexibility for Service Temperatures up to 500° F.


Master Bond Polymer System X5HT is a newly developed one component contact type adhesive/sealant featuring toughness and flexibility with a service temperature range of -75°F up to 500°F. In order to cure X5HT, it should be applied to each substrate, and then put under some pressure followed by curing at 300-400°F for as little as 15-30 minutes in a properly vented oven. The amount of pressure required depends on the hardness of the substrates being bonded and is generally less than 50 psi. Bonding methods can include hot presses or vented ovens while the assemblies are clamped or fixtured. X5HT has a good storage stability at room temperature and a shelf life of 6 months.

The Master Bond Polymer System X5HT features excellent adhesive characteristics to a wide range of substrates including metals, polymers, composites as well as glass and ceramics. Typical lap shear strength values for cold rolled steel, aluminum and fiberglass/polyester composites are 1400, 1300 and 1350 psi respectively. Very high peel strengths are also obtained with nitrile, neoprene, SBR type elastomers, and various plastics. Master Bond Polymer System X5HT exhibits outstanding retention of its adhesive properties in the 300-500°F range. The bonds feature excellent dimensional stability and have no tendency to creep even under sustained loads at high temperatures. Chemical resistance to water, fuels, oils and a variety of organic solvents is most satisfactory. Master Bond Polymer System X5HT provides a most effective solution to many industrial bonding and sealing problems which require convenient, simple processing along with high temperature performance in the 300-500°F range.

For further information, please contact:

James Brenner
Marketing Manager

154 HOBART STREET o HACKENSACK, NEW JERSEY 07601-3922 o TEL: 201-343-8983 o FAX: 201-343-2132
Visit our WEBSITE at http:/www.masterbond.com Or E-Mail us at Main@Masterbond.com

More from Adhesives & Sealants