Adhesive offers high thermal conductivity.
Press Release Summary: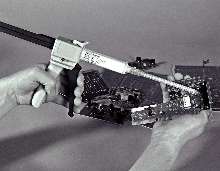 Two-component, room temperature curing EP21ANHT features thermal conductivity of over 22BTU/in/ft²/hr/°F. It comes in paste form and offers high bond strength to wide variety of substrates. Bonds resist water, oil, fuels, and many solvents. Shore D hardness is >85 and volume resistivity is >10
13
ohm-cm. Cures can be accelerated by use of heat. EP21ANHT is recommended for high temperature applications. Service operating temperature is -60 to +400°F.
---
Original Press Release:
New Adhesive Has Exceptionally High Thermal Conductivity

Master Bond Inc., Hackensack, N.J. has introduced EP21ANHT, a two component room temperature curing epoxy adhesive with a thermal conductivity of over 22BTU/in/ft²/hr/°F. It has a forgiving 1 to 1 mix ratio by weight or volume and has outstanding electrical insulation properties. Master Bond EP21ANHT is recommended for high temperature applications. Service operating temperature range is from -60°F to +400°F.

Master Bond EP21ANHT has high bond strength to a wide variety of substrates. It has a low shrinkage, low coefficient of expansion and superb dimensional stability. Bonds have superior durability and resist water, oil, fuels and many solvents. Shore D
hardness is >85 and volume resistivity is >1013 ohm-cm

EP21ANHT is a paste. It spreads evenly and smoothly. Cures can be
accelerated by the use of heat. It is available for use in pint, quart, gallon and 5 gallon container kits.

For further information, please contact:

James Brenner

Marketing Manager
More from Adhesives & Sealants