Adhesive has thermal conductivity of 2.2 W/m-°K.
Press Release Summary: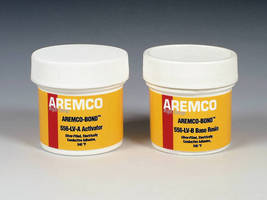 Offering volume resistivity of less than 0.0008 W-cm at room temperature, Aremco-Bond(TM) 556-LV features continuous operating temperature range at 340°F, intermittent use temperature of 375°F, tensile shear strength at 1,100 psi, Shore D hardness of 84, and viscosity range between 4,000-6,000 cP. It mixes in 100:4 ratio by weight, and sets at room temperature in 24 hr or can be heat cured in 2 hr at 200°F. Adhesive is formulated using high purity silver flake.
---
Original Press Release:

Aremco-Bond 556-LV Electrically Conductive Adhesive Now Available



Valley Cottage, NY - May 22, 2009

SUMMARY

Aremco-Bond(TM) 556-LV, a new silver-filled, low viscosity, high temperature, electrically and thermally conductive adhesive developed by Aremco Products, Inc., is now used for microelectronic chip bonding, semiconductor die-attach, hybrid packaging, and other electrical and electronic assembly applications to 340°F (141°C).

FEATURES

Aremco-Bond(TM) 556-LV is an advanced, two-part, low viscosity conductive adhesive formulated using high purity silver flake. This system exhibits a volume resistivity of less than 0.0008 ohm-cm at room temperature, and a thermal conductivity of 2.2 W/m-°K. The continuous operating temperature range is 340°F (141°C) and intermittent use temperature is 375°F (190°C). The tensile shear strength is 1,100 psi and Shore D hardness is 84. Viscosity range is 4,000 to 6,000 cP.

Aremco-Bond(TM) 556-LV mixes easily in a 100-to-4 ratio by weight. It sets at room temperature in 24 hours or can be heat cured in 2 hours at 200°F. It comes in standard 50-gram kits but can be specially packaged in divided bi-packs or pre-mixed and frozen syringes upon request.

Typical applications for Aremco-Bond(TM) 556-LV include microelectronic chip bonding, semiconductor dieattach, hybrid packaging, and other electrical and electronic components used in connectors, lighting and sensor components.

Please contact Aremco's Technical Sales Department for more information about this advanced new product.

AREMCO PRODUCTS, INC.

P.O. Box 517,

707-B Executive Blvd.

Valley Cottage,

NY 10989

WEBSITE:www.aremco.com

E-MAIL: aremco@aremco.com

Contact:

Peter Schwartz

TEL: (845) 268-0039

FAX: (845) 268-0041

More from Paints & Coatings