Motion Sensors / Detectors / Transducers
Acceleration Sensor provides 125 µg sensitivity.
Press Release Summary: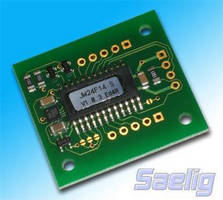 Based on MEMS sensor, 3-axis JoyWarrior24F14 measures in ranges of ±1, ±1.5, ±2, ±3, ±4, ±8, or ±16 g with 14-bit resolution, delivering 125 results/sec. Sensor enumerates and works as joystick, enabling users to access data via operating system's joystick API without installing any specific drivers. Measuring 30 x 33 x 5 mm, USB-powered JoyWarrior24F14 is suited for acceleration, tilt, and low frequency vibration sensing, as well as for human input applications.
---
Original Press Release:

Saelig Debuts High Resolution USB-connected 3 Axis Acceleration Sensor with 125µg Sensitivity



Pittsford, NY, USA: Saelig Company, Inc. introduces JoyWarrior24F14, a high-resolution USB-connected 3-axis acceleration sensor with a remarkable 125µg sensitivity.
The new USB-powered JoyWarrior24F14 sets a new price/performance benchmark for USB-based acceleration sensors, and offers acceleration resolution down to 125µg. JoyWarrior24F14 modules are based on a MEMS sensor and measure with 14-bit resolution in the ranges ±1g, ±1.5g, ±2g, ±3g, ±4g, ±8g, or ±16g, delivering 125 results per second.

Connection via USB allows easy use with almost any computer. Since JoyWarrior24F14 ennumerates and works as a joystick, accessing the data can be easily done via the operating system's joystick API without installing any specific drivers. Of course, this means that you can use JoyWarrior24F14 in joystick applications too.

The included software operates on Windows and MacOS X platforms and contains a configuration tool to set the sensor parameters, with tilt angle measuring, a calibration tool, and a simple data recorder. Small size (30 x 33 x 5mm) and a low mass (<5g) allow installation of the sensor in many situations. The modules are suitable for acceleration, tilt, and low frequency vibration sensing, as well as for human input applications. An additional 8 digital inputs are available for buttons or other logic signals.

Made in Europe by peripheral IC experts Code Mercenaries, JoyWarrior24F14 is the standard sensor used in the Quake Catcher Network of the University of California (http://qcn.stanford.edu). The project allows computer users to participate in a network that measures seismic events.

JoyWarrior24F14 is available now from Saelig, with prices starting at at $37.40 USD (qty one). For detailed specifications, free technical assistance, or additional information, please contact 1-888-7SAELIG, via email: info@saelig.com, or visit www.saelig.com

More from Optics & Photonics