Abrasive Grinding Wheels suit stainless applications.
Press Release Summary: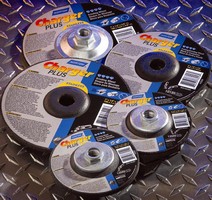 Charger(TM) Plus depressed center wheels feature blend of zirconia alumina and aluminum oxide abrasives that facilitate cutting and grinding of stainless steels. Available in ¼ and 1/8 in. thickness, wheels produce smooth grinding action that helps reduce operator fatigue. Clean bond contains no sulfur, iron, or chlorine, eliminating opportunity for contamination. Available products include Type 27 grinding and cutting wheels as well as Type 28 saucer wheels.
---
Original Press Release:

New Norton Charger Plus Depressed Center Wheels for Stainless Steel Applications Improve Performance by 30%



--Charger Plus Wheels for Stainless Applications are the Only Zirconia Alumina Wheels With a Clean Bond on the Market Today--

WORCESTER, Mass., March 9, 2006 -- The zirconia alumina abrasive in Norton Charger(TM) Plus wheels is the best grain to cut and grind stainless steels. The smooth grinding action enhances both the cut rate and life of the wheel and lets the wheel do the work, not the operator. The clean bond contains no sulphur, iron or chlorine - eliminating the opportunity for contamination (e.g. rust, etc.) - and makes the wheel softer acting. Charger Plus wheels for stainless applications are available in 1/8-inch thickness for cutting and light grinding and 1/4-inch thickness for heavier stock removal.

The complete line of Charger Plus wheels is designed for weld, metal fabrication, foundry, construction, pipeline and petrochemical applications. All Charger Plus wheels feature a blend of advanced performance zirconia alumina and aluminum oxide. The blending of these two abrasive types results in a high-performance wheel that is value-priced. On-the-job tests of Charger Plus wheels have proven that the increased ratio of aggressive grinding and cutting zirconia alumina grain in Charger Plus wheels improves performance by an average of 30%.

Operators can grind faster with less force and less fatigue. They can spend less time grinding, increasing their output and lowering the total grinding and finishing costs. Plus, the longer wheel life provides the added benefit of less downtime to change wheels.

Charger Plus Type 27 1/8-inch and 1/4-inch thick grinding and cutting wheels are available in 4-, 4½-, 5-, 6-, 7- and 9-inch diameters with both 7/8 and 5/8-11 center holes. Type 28 saucer wheels are available in 7- and 9-inch diameters, 1/4-inch thickness and 5/8-11 center holes.

Norton is a brand of Saint-Gobain Abrasives, a division of Compagnie de Saint-Gobain. Saint-Gobain (Paris) is a leading producer of construction products (building materials, gypsum products, insulation and pipe), high-performance materials (abrasives, ceramics, high-performance plastics, and reinforcements), flat glass, and glass containers. The company is also a leading distributor of building products in Europe. One of the top 100 industrial companies in the world, Saint-Gobain's 2005 sales approximated $43.7 billion. In the United States and Canada, Saint-Gobain employs about 25,000 people and has approximately 200 manufacturing locations. Saint-Gobain's web site is www.saint-gobain.com.

The Norton web site is www.nortonabrasives.com.

More from Sensors, Monitors & Transducers