A New Level of Performance in Titanium Milling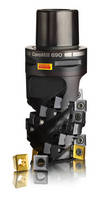 Not one but two new grades to tackle the extreme demands of titanium milling are now being launched by Sandvik Coromant. Together these grades amount to a new level of reliable long lasting performance. Grades S30T and S40T are available for a variety of CoroMill cutters for face, shoulder, long-edge and high feed milling, plunging, profiling and slot milling.

Grade S30T for speed and tool life

S30T has been developed with productive titanium milling in focus. It combines the properties of micro-grain carbide and a wear resistant PVD coating. This enables very sharp cutting edges that resist fatigue and micro-chipping and result in cutting edges that are preserved for longer times in cut at higher cutting speeds.

Grade S40T for difficult conditions

S40T is developed for difficult conditions. It combines high toughness cemented carbide with a thin CVD coating. The result is a grade that withstands vibrations and other difficult cutting conditions for longer times in cut. The wear is predictable, making the cutting edge gradually duller without breaking.

Sandvik Coromant

Sandvik Coromant is a world-leading supplier of cutting tools and tooling systems for the metalworking industry and is represented in 130 countries. 25 state-of-the art Productivity Centers located around the world provide customers and staff with continuous training in tooling solutions and methods to increase productivity. Sandvik Coromant is part of the Tooling business area of the Sandvik Group.


Related