60 Degree Face Mill suits heavy duty machining.
Press Release Summary: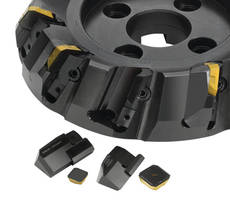 With maximum cutting depth of .709 in., CoroMill 360 features wedge clamped, quick-release inserts housed in unique exchangeable cassette system whose precise location ensures accurate cutting. Heavy duty milling cutter is available in 6-20 in. dia, in close and extra close pitch design, and Arbor and CIS Arbor shank styles. Inserts are available in .748 and 1.10 in., and can be removed with one turn of wedge screw.
---
Original Press Release:

Sandvik Coromant's CoroMill 360 Ideal for Heavy Duty Machining



Fair Lawn, New Jersey, January 26, 2009 - In March 2009, Sandvik Coromant will release its CoroMill 360, a new 60-degree face mill that offers high security and outstanding productivity for heavy industry applications. The robust cutter body in through-hardened steel provides strength for the most demanding operations.

With a maximum cutting depth of 18 mm (.709 in) and an extremely high feed per tooth, CoroMill 360 ensures highly productive, cost-effective performance. The cutter features wedge clamped, quick-release inserts housed in a unique exchangeable cassette system whose precise location ensures accurate cutting. Additionally, the 4-edged inserts' wide parallel land and strong edge geometry provide a high surface finish quality unique for a heavy duty milling cutter.

CoroMill 360 inserts give a light-cutting performance and are available in 19 mm (.748 in) and 28 mm (1.10 in), with each size using the same cutter body to keep tool inventory to a minimum. The inserts can be removed with one turn of a wedge screw to reduce tool change times and provide maximum flexibility.

CoroMill 360 is available in diameters from 160 - 500 mm (6 - 20 in) in close and extra close pitch design and Arbor and CIS Arbor shank styles. Inserts come in high-performance, New Insert Generation grades for steel, stainless steel, cast iron and heat resistant super alloy machining.

About Sandvik Coromant

As the world-leading supplier of high quality cutting tools, Sandvik Coromant helps customers think smart, work smart and earn smart. The company provided US customers with $70 million in documented cost savings in 2007. For more information regarding products, applications and services that can help you earn smart, contact Sandvik Coromant Company, 1702 Nevins Road, Fair Lawn, NJ 07410, phone 201.794.5223, fax 201.794.5217 or visit http://www.coromant.sandvik.com/us.

CONTACT:

Björn Roodzant

201.794.5223