2K850 UV Cure Coating offers thickness of 200-400 μm.
Press Release Summary: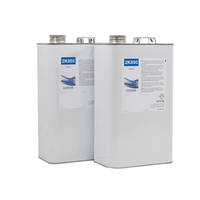 2K850 UV Cure Coating is suitable for LED, automotive, aerospace and other tough electronic applications. Product is enhanced with edge coverage, adhesion, hardness and scratch resistance capabilities and offers protection against water, moisture and condensation. 2K850 coating meets UL94V-0, IPC-CC-830C, MIL-I-46058C and IEC 61086 standards and features an operating temperature range from -65 to +130°C.
---
Original Press Release:
Electrolube's UV Cure Coating Guarantees Full Cure in 24 Hours
Electrolube, the leading manufacturer of specialist electro-chemicals, has launched an innovative new two-part, UV cure conformal coating, the 2K850, in response to demand for an extremely fast-drying UV cure coating, that's solvent-free, VOC-free and offers unsurpassed performance in harsh environments, including resistance to cracking during thermal shock cycling. Designed to allow rapid board calibration, the 2K850 UV Cure coating enables boards to be handled immediately, with full cure guaranteed within just 24 hours due to the chemical secondary cure mechanism. Compared to UV cure systems on the market that require minimum moisture secondary cure times of 7-8 days, 2K850 enables tremendous reductions in the amount of Work In Progress. In addition, for many sensitive designs, as the changes in material properties during the secondary curing process can cause difficulties with board calibration.
The 2K850 coating has been developed for selective coating systems and was recently announced as 'SMT Technology Product of the Year' in India. This exciting new product combines the speed and convenience of UV cure, enabling an immediate tack-free coating, even with low energy LED curing technology, with the features and benefits of Electrolube's revolutionary 2K conformal coating system, which combines the properties of a resin with the easy application of a coating. Once the two components are mixed, the system guarantees complete cure at room temperature within 24 hours, compared to the industry moisture cure average of at least 8-14+ days. Most single part UV cure systems require moisture to diffuse through the already UV cured coating sections. If the UV cured coating material is a decent barrier to humidity, full moisture cure beneath components can be measured in months or even years.
For sensitive designs, the constant changes in material properties as the moisture-cure process progresses can affect calibration. In a production scenario, this extended cure time can impact the amount of Work in Progress (WIP) and require excessive buffering. The 2K850 product offers major advantages over the first and even latest generation single part UV cure coatings, which still have not adequately solved the secondary cure dilemma. Current users of single part UV cure coating systems experiencing issues relating to their coating cracking during thermal shock, or extended moisture cure processes (or both) now have a robust alternative solution using their existing production equipment - the only additional requirement is a simple 2K fluid valve modification.
The 2K850 also enables users to benefit from the many advantages of LED curing, without having to sacrifice line speed or use carbon dioxide or nitrogen to inert the materials surface during curing. LED curing lamps provide many benefits, mostly around lower energy consumption and less waste. The UV LED benefits are numerous and include no IR radiation (and thus minimal heat transfer to the board), more compact, low voltage, simpler and safer, Instant On/Off and no shutters are necessary (traditional lamps require cooling down in idling mode prior to going back to full power). Further benefits include consistent UV output over many thousands of hours of operating life, no creation of UVC or ozone, no heavy metal content (mercury) and eliminates the need for an exhaust, making it far safer for operators.
The 2K850 polyurethane system provides a much faster processing time with an advanced level of protection. The UL94V-0, IPC-CC-830C, MIL-I-46058C and IEC 61086 compliant coating features a wide operating temperature range of -65 to +130°C with excellent thermal shock performance and offers several other benefits over more traditional UV cure conformal coatings, such as improved coverage for more effective protection against harsh environments, and vastly improved resistance to cracking during thermal shock cycling.
2K850 is a tough, flexible, high performance coating, characterised by greater coating thickness (200-400μm), enhanced edge coverage and improved adhesion, hardness and scratch resistance. Ultimately, this coating provides a consistent and completely reliable chemical cure. Electrolube's 2K range, including 2K850 are all hydrophobic coatings, providing excellent water, moisture and condensation protection, including salt mist. This makes 2K850 an excellent choice for LED, automotive, aerospace and other tough electronic applications exposed to hash conditions.
For further information, please visit http://www.electrolube.com.
About Electrolube
Electrolube, a division of H.K. Wentworth Limited, is a leading manufacturer of specialist chemicals for electronics, automotive and industrial manufacturing. Core product groups include conformal coatings, contact lubricants, thermal management materials, cleaning solutions, encapsulation resins and maintenance and service aids.
The extensive range of electro-chemicals at Electrolube enables the company to offer a 'complete solution' to leading manufacturers of electronic, industrial and domestic devices, at all levels of the production process. Through collaboration and research, the company is continually developing new and environmentally friendly products for customers around the world and their commitment to developing 'greener' products has been endorsed by the ISO 14001 standard for the highly efficient Environmental Management System in place at the company.
Winners of the Queen's award for Enterprise 2016, Electrolube is represented in over 55 countries with an established network of subsidiaries and distributors. By offering genuine security of scale and a reliable supply chain, the company is able to deliver a truly tailored service.
More from Laboratory and Research Supplies and Equipment