Visit EMAG at South-Tec 2017 in Booth 1629!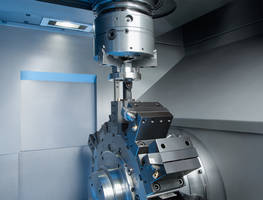 At South-Tec 2017, October 24-26 at the TD Exposition Center in Greenville, SC, EMAG will feature manufacturing systems for precision metal components with the VL 2 modular vertical turning machine for the low-cost production of chucked components with a diameter of up to 100 mm.
This machine from the VL series will be on display for visitors to experience the successful EMAG modular inverted vertical lathe design. With the aim to develop a system of modular machines ideal for use in the manufacturing of medium and large batch runs, one common feature of all four machine sizes is the shared modular, compact design. Their small footprint means reduced floor space costs and flexibility in machine layout. Every VL machine features an integrated automation system for transporting workpieces. When combined with the self-loading pick-up spindles, this automation concept ensures short cycle times and high productivity. To accommodate machine operators, all the service units are easily within reach, with the various units (electrics, hydraulics, cooling system, cooling lubricant and central lubrication system) accessible at any time so that the machines can be maintained with ease. (More information at vl-vt.emag.com)
The technologies in the EMAG Group cover the entire spectrum of metalworking, including non-traditional processes. Electro-Chemical Machining (ECM) is used in the aerospace sector for the manufacture of blisks, while laser welding is essential in light weighting automotive components. eldec modular induction (MIND) hardening systems are also available from EMAG. Featuring Simultaneous Dual Frequency (SDF) technology, eldec hardening systems compliment the workpieces machined by EMAG lathes to create efficient, complete production lines. The flexible machine concepts and complete systems from EMAG offer modular and customized solutions for the production of workpieces in nearly every industry. We look forward to welcoming you to booth 1629!
About EMAG: The EMAG Group covers the entire spectrum of machining processes in the metalworking industry. Whether for chucked components or shafts, the companies under the EMAG umbrella offer the latest technological advances to optimize a manufacturing solution for every customer's requirement. EMAG is a trendsetter in the field of vertical turning and multi-functional production machines with a variety of technology centers allowing EMAG to become an important partner in the realization of manufacturing solutions for the production of transmission, engine and chassis workpieces, as well as for OCTG components and coupling threads of the oil field industry and exotic materials used in the aerospace industry. The leader in inverted vertical pick-up lathes, EMAG has integrated its pick-up principle into a wide array of technology-specific machines offering world-class manufacturing with a minimal footprint, short chip-to-chip times and top quality. Our focus is on complete processes that allow the customer to machine everything in a single set-up.
EMAG Group Technologies
Turning
Milling
Grinding
Hobbing
Laser Welding
Electro-Chemical Machining
Induction Hardening
Heat Shrink Assembly
The German based company is an important partner in the realization of complete manufacturing lines world-wide with offices around the globe. Their US representation is located in Metro-Detroit.
EMAG L.L.C.
38800 Grand River Ave.
Farmington Hills, MI 48335
Phone: 248-477-7440
Amanda Bakun
Marketing Manager
email: abakun@emag.com
More from Computer Hardware & Peripherals