Sandvik Coromant Offers Flexible Tooling for Gear and Spline Manufacturing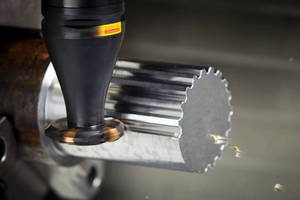 The CoroMill 172 and 171 disc cutting concepts adapted for gears, splines and racks enables gear profile manufacturing on most types of CNC machines. A primary benefit of the cutter is single setup machining: using one machine for many operations and one cutter body for different insert types. This significantly reduces setup time, machine down times or the need to outsource the gear profiling operation due to lack of dedicated machines.



CoroMill 172 and 171 disc cutters offer an easy-to-program, versatile and time saving solution for milling of high-quality gear profiles. Thanks to indexable carbide insert technology and powerful iLock interface (on CoroMill 172), components can be machined in flexible, non-dedicated machines, such as multi-task machines and machining centers, as well as in hobbing machines.



Both concepts are particularly cost-effective for small-to-medium batches of internal and external gears and splines, as well as racks and pinions. They can be used to generate straight flank or involute profiles, and are designed to be able to hold a range of inserts, offering flexibility for customers producing gears and splines of close module size and similar tooth profiles.



CoroMill 172 is available in module 3-10 (DP 8 - 2.6), CoroMill 171 in module 0.8-4 (DP 32 - 8) with gear profiles in accordance with DIN 867 for gears and DIN 5480 for splines. Diameters range from 2.5-10 in. (63-254 mm) for the CoroMill 172 and 1.5 – 3 in. (39-70 mm) for CoroMill 171.



Machining using ground carbide inserts can take place dry, further reducing costs.



About Sandvik Coromant

Sandvik Coromant is a global leading supplier of cutting tools, tooling solutions and know-how to the metalworking industry. With extensive investments in research and development we create unique innovations and set new productivity standards together with our customers. These include the world's major automotive, aerospace and energy industries. Sandvik Coromant has 8,000 employees and is represented in 130 countries. We are part of the business area Sandvik Machining Solutions within the global industrial group Sandvik. For more information, visit www.sandvikcoromant.com.



More from Electrical Equipment & Systems