Plasma Etch, Inc. Sees Strong Sales of Gasless Mark II Plasma System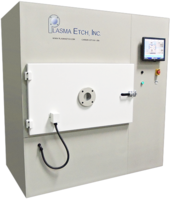 Carson City, NV – Plasma Etch Inc, a leader in plasma treatment, has seen strong sales increases since introducing gasless etching technology on the company's flagship system.
The patented gasless technology allows the Mark II to offer unmatched speed and uniformity for desmear and etch back cycles without the added expense and environmental impact of CF4 gas. The system uses only electricity and oxygen.
This Mark II is very popular with PCB manufacturers. Not only are customers saving CF4 gas, but they report the gasless Mark II etching faster and more uniformly than a standard Mark II running CF4.
Since the release of the gasless technology, sales of the Mark II system have shown strong increases each quarter.
The company expects this growth to continue as the PCB industry grows.
Plasma Etch's full line of plasma products may be viewed on their website: www.plasmaetch.com
About Plasma Etch: Plasma Etch has been a leading manufacturer and industry innovator since 1980. The company holds several patents for the invention, development and manufacturing of groundbreaking innovations, paving the way for plasma technology and the enhancement of quality manufacturing worldwide. Plasma Etch specializes in plasma cleaning solutions of all sizes. Their products are industry proven and set the standard for reliability, speed and uniformity in plasma processing.
Contact information:
Plasma Etch, Inc.
3522 Arrowhead Drive
Carson City, NV 89706
(775) 883-1366