Indium Corporation to Feature Materials for HIA at Electronics Packaging Symposium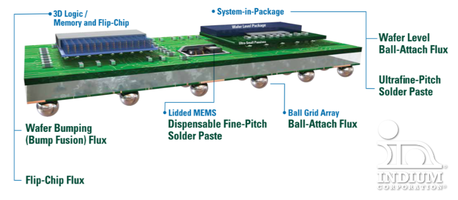 Indium Corporation will feature its proven materials for Heterogeneous Integration & Assembly (HIA) at the 31st Annual Electronics Packaging Symposium, September 5-6 in Niskayuna, New York, USA.
Indium Corporation's soldering materials for HIA applications have a proven track record of success in more than two billon front-end module SiP devices manufactured over the last three years.
From water-soluble to no-clean soldering solutions,
Indium Corporation's portfolio of products meets current and evolving challenges encountered in fine-pitch HIA applications:
3D logic/memory and flip-chip:

Wafer bumping (bump fusion) fluxes
Flip-chip flux

Lidded MEMS:

Dispensable fine-pitch solder paste

System-in-package:

Wafer level ball-attach flux
Ultrafine-pitch solder paste

Ball grid array
See Indium Corporation's experts at the show or visit the company's HIA page at www.indium.com/HIA to learn more.
Indium Corporation is a premier materials manufacturer and supplier to the global electronics, semiconductor, thin-film, and thermal management markets. Products include solders and fluxes; brazes; thermal interface materials; sputtering targets; indium, gallium, germanium, and tin metals and inorganic compounds; and NanoFoil®. Founded in 1934, the company has global technical support and factories located in China, India, Malaysia, Singapore, South Korea, the United Kingdom, and the USA.
For more information about Indium Corporation, visit www.indium.com or email abrown@indium.com. You can also follow our experts, From One Engineer To Another® (#FOETA), at www.facebook.com/indium or @IndiumCorp.
Contact:
Anita Brown, Corporate Communications
Indium Corporation
abrown@indium.com
tel: +1.315.381.7524
34 Robinson Road
Clinton, NY 13323 USA
www.indium.com
Related