Servo Motor Controllers and Drives
Bosch Rexroth SafeMotion Achieves CIP Safety™ over EtherNet/IPTM Certification From ODVA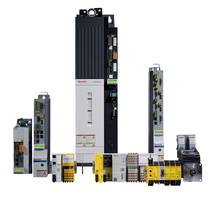 With this new CIP Safety certification, Rexroth's IndraDrive servo drive system supports an unrivaled variety of bus systems
New certification gives machine builders more options to utilize Bosch Rexroth's drive-integrated SafeMotion functionality, even with third-party PLC platforms using different automation bus interfaces.
Bosch Rexroth's drive-integrated SafeMotion machine safety platform has received the ODVA's CIP Safety™ over EtherNet/IP™ certification, adding to the company's capabilities to support major safety automation buses, including CIP Safety on Sercos®, PROFIsafe on PROFINET® and FailSafe® over EtherCAT®.
SafeMotion technology is available on Bosch Rexroth IndraDrive intelligent servo drives.
With this latest certification, SafeMotion can now be integrated into almost any new or existing machine automation architecture, giving machine builders and end-users more options in machine safety functionality. Adding safety capabilities in the drive can alleviate additional hardware and components. 
SafeMotion can be used to monitor up to 20 safe and certified motion functions, such as Safe Torque Off, Safe Brake Control, Safe Direction and Safe Stop. It provides the maximum level of safety (Cat 4, PL e, SIL 3) for all functions. 
Bosch Rexroth supports all major safety automation buses through a multi-Ethernet port on the drive, making it easy to specify one drive platform with a variety of options, regardless of the PLC. Using one bus system for both standard and safety communication also simplifies system architecture and reduces cabling and installation efforts for the machine builder. 
With easy system integration, engineering staff aren't required to manage additional hardware and software applications. The Bosch Rexroth drive and SafeMotion functionality work right out of the box, requiring no additional tuning. Base parameters typically work for all applications, saving installation time. Software, firmware, configuration, setup and features are identical across the entire Rexroth IndraDrive platform.
In addition, Bosch Rexroth integrates several free tools into their servo drives to help save time and costs with safety validation and required technical documentation, even across series machines. These tools include the machine acceptance test which validates the SafeMotion functions, as well as the ability to create screen clips and plot velocity, position, monitoring and thresholds. 
Ideal for applications in the machine tool, packaging, printing, testing, marine, material handling and other industries, Bosch Rexroth's certified SafeMotion functionality is available throughout the entire Rexroth IndraDrive series, from 100W up to the large 4 mW drives. 
For more information visit https://www.boschrexroth-us.com/drive-integrated-safety
About ODVA
ODVA is an international standards development and trade organization with members from the world's leading automation suppliers. ODVA's mission is to advance open, interoperable information and communication technologies for industrial automation. Its standards include the Common Industrial Protocol or "CIP™," ODVA's media independent network protocol – and industrial communication technologies including EtherNet/IP, DeviceNet and others. For interoperability of production systems and their integration with other systems, ODVA embraces the adoption of commercial-off-the-shelf, standard Internet and Ethernet technologies as a guiding principle. This principle is exemplified by EtherNet/IP – today's leading industrial Ethernet network. Visit ODVA online at www.odva.org.
About Bosch Rexroth:
As one of the world's leading suppliers of drive and control technologies, Bosch Rexroth ensures efficient, powerful and safe movement in machines and systems of any size. The company bundles global application experience in the market segments of Mobile Applications, Machinery Applications and Engineering, and Factory Automation. With its intelligent components, customized system solutions and services, Bosch Rexroth is creating the necessary environment for fully connected applications. Bosch Rexroth offers its customers hydraulics, electric drive and control technology, gear technology and linear motion and assembly technology, including software and interfaces to the Internet of Things. With locations in over 80 countries, more than 32,300 associates generated sales revenue of roughly 6.2 billion euros ($7.3 billion) in 2018.
To learn more, please visit www.boschrexroth-us.com. 
About Bosch:
The Bosch Group is a leading global supplier of technology and services. It employs roughly 410,000 associates worldwide (as of December 31, 2018). According to preliminary figures, the company generated sales from operations of 77.9 billion euros ($92 billion) in 2018. Its operations are divided into four business sectors: Mobility Solutions, Industrial Technology, Consumer Goods, and Energy and Building Technology. As a leading IoT company, Bosch offers innovative solutions for smart homes, smart cities, connected mobility, and connected manufacturing. It uses its expertise in sensor technology, software, and services, as well as its own IoT cloud, to offer its customers connected, cross-domain solutions from a single source. The Bosch Group's strategic objective is to deliver innovations for a connected life. Bosch improves quality of life worldwide with products and services that are innovative and spark enthusiasm. In short, Bosch creates technology that is "Invented for life." The Bosch Group comprises Robert Bosch GmbH and its roughly 440 subsidiary and regional companies in 60 countries. Including sales and service partners, Bosch's global manufacturing, engineering, and sales network covers nearly every country in the world. The basis for the company's future growth is its innovative strength. At 125 locations across the globe, Bosch employs some 69,500 associates in research and development. 
Additional information is available online at www.bosch.com, www.iot.bosch.com, www.bosch-press.com, www.twitter.com/BoschPresse.
Media Contacts:
Godfrey
Todd Walter
Gina Mudie
40 N. Christian Street
Lancaster, PA 17602
Telephone (717) 393-3831
twalter@godfrey.com
gina@godfrey.com
Bosch Rexroth Corporation
Susan Strauss
2315 City Line Road
Bethlehem, PA 18017
Telephone (610) 694-8352
susan.strauss@boschrexroth-us.com
More from Agricultural & Farming Products