101 Milner Ave.
Scarborough, ON M1S4S6 CAN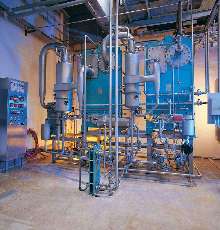 Automated AlfaVap(TM) concentrates process liquids that contain dissolved and finely dispersed proteins of animal or fish origin. Utilizing forced circulation, unit can be supplied as single-stage, 2-stage, or 3-stage evaporator depending on heating medium, throughput, or concentration requirements of end product. Capacities are offered from 2,000-35,000 lb/hr. Acceptable process fluids include...
Read More »
SoftColumn(TM), using as few as 3 additional components, retrofits to existing systems with minimal interruption of production. Able to remove volatiles at lower temperatures, unit uses approximately 110 lb of stripping steam for each ton of final product. Vertical array of plates create thin film of oil from which unwanted compounds are quickly removed, minimizing unwanted reactions.
Read More »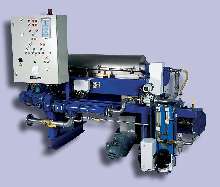 ALSYS 400 Series offers capacities ranging from 8-70 gpm and handles variety of common sludge types. Automatic operation allows for minimal operator attention. Each module consists of progressing cavity pump, flow meter, polymer make-up unit, piping, valves, and screw conveyor for dewatered sludge. Central control panel ensures trouble-free operation and safety. Modules are mobile and can be...
Read More »