Cassette Evaporator suits high viscosity products.
Press Release Summary: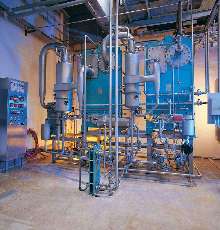 Automated AlfaVap(TM) concentrates process liquids that contain dissolved and finely dispersed proteins of animal or fish origin. Utilizing forced circulation, unit can be supplied as single-stage, 2-stage, or 3-stage evaporator depending on heating medium, throughput, or concentration requirements of end product. Capacities are offered from 2,000-35,000 lb/hr. Acceptable process fluids include stick water from fishmeal, glue water from meat by-products, and gelatin products.
---
Original Press Release:

AlfaVap(TM) a Cassette Evaporator for High-Viscosity Products


AlfaVap(TM) is a cassette evaporator for concentrating process liquids that contain dissolved and finely dispersed proteins of animal or fish origin. AlfaVap works on the principle of the rising-film evaporator utilizing forced circulation. In contrast to other evaporators based on this principle, nearly all evaporation takes place within the cassettes.

AlfaVap is suitable for process liquids such as:
ostick water from fishmeal
oglue water from meat by-products
ofish extracts and bouillon products
ocanning cooking water
omeat extracts and bouillon products
ofish or meat-based hydrolysate products
ofish silage products
ogelatin products

As AlfaVap can be effectively cleaned by CIP, it can also be designed for food-grade quality products.

The AlfaVap is a very compact unit available in either standardized or customized models. It offers an overall lower investment cost than traditional shell-and-tube evaporator systems. It can be supplied as a single-stage, two-stage or three-stage evaporator depending on the heating medium, throughput, or concentration requirements of the end product. The AlfaVap is highly automated and achieves high heat transfer coefficients and low fouling which results in extended operating periods between cleanings.

AlvaVap is available in capacities of 2000 to 35,000 lbs per hour (1000 to 16,000 kg/h). Larger customized units are available, if required.

Alfa Laval in brief:
Alfa Laval is a leading global provider of specialized products and engineered solutions. Our equipment, systems and services are dedicated to helping customers to optimize the performance of their processes. Time and time again. We help our customers to heat, cool, separate and transport products such as oil, water, chemicals, beverages, foodstuff, starch and pharmaceuticals. Our worldwide organization works closely with customers in almost 100 countries to help them stay ahead.

For more information, contact:
Greg Barlage
Alfa Laval Inc.
5400 International Trade Drive
Richmond, VA 23231
Tel: 804 236-1327
e-mail: greg.barlage@alfalaval.com

www.alfalaval.com

Distributed by:
Joyce Fielding Bergh/PR/Media
Alfa Laval Inc.
5400 International Trade Drive
Richmond, VA 23231
Tel: 804 236-1298
e-mail: joyce.bergh@alfalaval.com