P.O. Box 471008
Brookline, MA 02445
Share: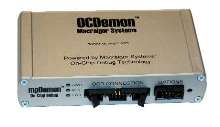 Built on OCDemon On-Chip Debug Technology, mpDemon includes APIs and standard GNU Debugger remote protocol allowing instant plug-and-play. Unit includes 10BaseT Ethernet, parallel, and serial interfaces to host system. Embedded 32-bit microprocessor allows mpDemon to operate at high speeds, downloading binary files to target. With interchangeable personality modules, users can migrate from one...
Read More »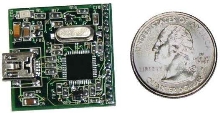 Compatible with software debuggers and microprocessor architectures, usbSprite provides applications programming interface for target on-chip debug (OCD) operations. It measures 1.3 in.-² and connects to host system via USB mini-b connector. Based on proprietary OCD technology, product operates as converter of JTAG or BDM commands. Dedicated JTAG controller enables binary files to be downloaded...
Read More »

Based on on-chip debug technology, usbDemon operates as a converter of JTAG commands. Windows host PC communicates with unit via USB protocol using proper OCD signals required by target. Host port may be JTAG, E-JTAG, OnCE, COP, BDM, or any of several other types of connections. Applications programming interface is fully compatible with software debuggers, including GNU tools suite.
Read More »