Bettcher Industries, Inc.
6801 State Route 60
Clarksfield, OH 44889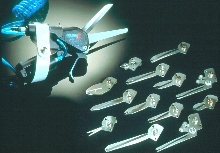 Airshirz® scissors utilize removable stainless steel blades available in varying lengths, thicknesses, and weights. They cut, snip, and trim fiberglass, carbon, Kevlar®, and Aramid fibers. Large loop style and 2-finger grip designs feature automatic spring-return action so no effort is required to open blades. Safety latch secures blades in locked position and prevents damage when not in use....
Read More »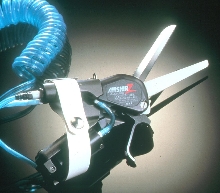 Airshirz® Pneumatic Scissors provide clean, accurate cutting, snipping, and trimming of metals, composite materials, and other product. Units utilize 80 to 120 psi plant air, and are available in 2 grip designs: 2-finger grip and larger finger loop style. Both designs include automatic spring-return action and pneumatic operation to give users complete control over cutting action. Airshirz...
Read More »