Pneumatic Scissors reduce muscle fatigue.
Press Release Summary: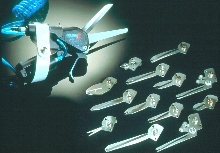 Airshirz® scissors utilize removable stainless steel blades available in varying lengths, thicknesses, and weights. They cut, snip, and trim fiberglass, carbon, Kevlar®, and Aramid fibers. Large loop style and 2-finger grip designs feature automatic spring-return action so no effort is required to open blades. Safety latch secures blades in locked position and prevents damage when not in use. All scissors use 80 to 120 psi plant air.
---
Original Press Release:
Airshirz(R) Pneumatic Scissors Now Feature New Blade Designs For Versatile Cutting Operations

Birmingham, Oh., May 21, 2002 - Airshirz® industrial pneumatic scissors from Bettcher Industries increase worker productivity while reducing muscle fatigue in cutting operations. And now, with more than a dozen new specially-designed blade configurations available for specific cutting challenges, users have the perfect companion for making clean work of cutting procedures involving various composites (fiberglass, carbon, Kevlar® and other Aramid fibers), rubber, textiles wire and others.

Lightweight yet powerful, Airshirz provides clean, accurate cutting, snipping and trimming, resulting in less waste and a better-looking finished product. Yet Airshirz requires approximately 90% less muscle activity to operate, and achieves up to 127% greater worker productivity over manual scissors.

Airshirz scissors from Bettcher Industries utilize removable stainless steel blades. Each blade is configured to achieve the easiest, cleanest cut possible. Blades are of varying lengths, thicknesses and weights, and each are designed with just the right degree of surface grind and serration to minimize slippage of material. Users choose just the right blade configuration to optimize the effectiveness of each cutting application. All Airshirz blades can be removed in seconds and sharpened using bettcher EdgeKing® Precision Sharpener or conventional sharpening equipment.

Airshirz scissors are available in two grip designs. Choose from either a two-finger grip or a larger loop style, depending on your shop and operator requirements. Both grip designs feature an automatic spring-return action so no effort is required to open the blades. Moreover, the pneumatic power gives the user complete control over the cutting action, thereby guarding
against an inadvertent cut. Additional safety features include a safety latch to secure blades in a locked position, and to prevent damage when not in use. All Airshirz units use standard 80 to 120 psi plant air.

Established in 1944, Bettcher Industries is a leading developer and manufacturer of innovative and precision cutting tools for industrial and food processing operations. For more information about Airshirz industrial pneumatic scissors, contact Wayne Daggett at (440) 965-4422, or e-mail your request to sales@bettcher.com. Web site address: www.bettcher.com.


More from Machinery & Machining Tools