Product News: Adhesives & Sealants
Silicone-Elastomer Adhesive withstands temperatures to 570°F.
Press Release Summary: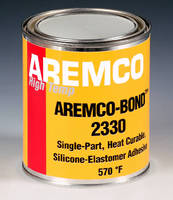 September 14, 2012 - Offering resistance to thermal shock, chemical corrosion, and water immersion, Aremco-Bond™ 2330 is suited for industrial bonding applications to 570°F. Single-part, red pigmented adhesive provides tensile shear strength of 425 psi, coefficient of thermal expansion of 94 x 10-6 in./in./°F, and viscosity of 38,000 cP at room temperature. Spread with plastic applicator or automatic dispense system, product cures by heating to 300°F for 45 min or 400°F for 30 min.
Aremco Products, Inc. - Valley Cottage, NY
Original Press Release
Aremco-Bond 2330 Silicone-Elastomer High Temp Adhesive Now Available
Press release date: September 13, 2012
SUMMARY
Aremco-Bond™ 2330, a new high temperature, single-part, silicone-elastomer adhesive produced by Aremco Products, Inc., is now used for industrial bonding applications to 570 °F (300 °C).

FEATURES
Aremco-Bond™ 2330 is a single component, heat-curable, red pigmented, high temperature, silicone elastomer adhesive that exhibits excellent flexibility and resistance to thermal shock, chemical corrosion and water immersion. After a brief cure schedule, Aremco-Bond™ 2330 withstands temperatures exceeding 570°F (300 °C) and provides a tensile shear strength of 425 psi. Its coefficient of thermal expansion is 94 x 10-6 in/in/°F and viscosity at room temperature is 38,000 cP. Electrical properties include a dielectric strength of 550 volts/mil and a volume resistivity of 2.0 x 1015 ohm-cm.

Aremco-Bond™ 2330 is an easy-to-use material that can be spread with a plastic applicator or automatic dispense system. It is typically applied to each substrate to be bonded in thin layers of 10-15 mils. Curing is accomplished easily by heating to 300°F for 45 minutes or 400 ºF for 30 minutes.

The flexible nature of Aremco-Bond™ 2330 enables it to bond together a wide range of materials including ceramics, composites, metals, plastics, quartz, and refractories at temperatures to 570°F. This property provides manufacturers a direct method of attaching materials of different coefficients of expansion for use in thermal, structural and electrical applications throughout industry.

Aremco-Bond™ 2330 is available from stock in pint, quart, and gallon containers. Please contact Aremco's Sales Engineering Department for more information about this advanced adhesive system,