Product News: Electrical Equipment & Systems
AC Power Modules combine optimal capacity and form factor.
Press Release Summary: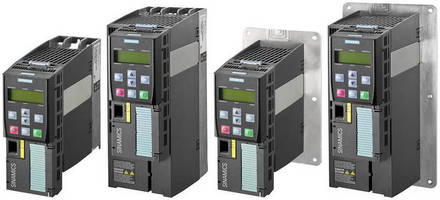 July 25, 2014 - Able to be mounted side-by-side without derating, PM240-2 power modules comprise 230 V, 3-phase line supply units that can extend use of Sinamics G120 drives. Quick-connect connectors on motor and cable sides facilitate in-field commissioning and maintenance, while removable terminals for line supply, motor, and braking resistors accelerate replacement when service is required. Features include controllable, variable-speed fan, and Frame size A has max rating of 3 kW Low Overload (LO).

Siemens Industry - Digital Factory - Machine Tool Systems - Elk Grove Village, IL
Original Press Release
Siemens Offers New 230V, Single- and 3-Phase AC Power Modules for its Sinamics G120 Drives
Press release date: July 24, 2014
A new line of PM240-2 power modules is now available from Siemens, extending the use of the popular Sinamics G120 drives family.  A significant change is the addition of 230V single- and three-phase line supply units featuring quick-connect pull-off terminals on the motor, line supply and braking resistor connections allowing the new PM240-2 to offer an even more simplified installation and maintenance.  In addition, these new power modules can be mounted side-by-side without derating.  
All versions of the new PM240-2 power modules are rated IP20.  However, an optional push-through version is available allowing the heat sink to extend out the backside of the cabinet.  The seal for the push-through heat-sink will maintain and enclosure rating of IP55 (NEMA 12).  As a result, the new PM240-2 power modules will reduce the overall required cabinet size and cabinet cooling requirements.
Among the unique, new features of the PM240-2 power modules is the variable speed cooling fan, controllable to run based upon actual conditions vs. simple on / off operation, thereby reducing both the noise generated and the power required when in use.
The PM240-2 power modules are suitable for use with general-purpose and servo-drive styles.  Options on these PM240-2 power modules include braking resistors, input reactors and output reactors. 
For more information about this new line of power modules, please visit: 
www.usa.siemens.com/sinamics-g120
.   
For specific product information and inquiries, call (800) 879-8079 ext. Marketing Communications or send an e-mail to:
SiemensMTBUMarCom.industry@siemens.com
.
Follow us on Facebook:
www.facebook.com/siemens.dt.us
or Twitter: 
www.twitter.com/siemens_dt_us
.