Product News: Test & Measuring Instruments, Software
Boundary Scan Test System targets entry level users.
Press Release Summary: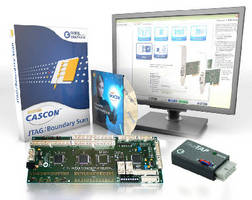 February 27, 2013 - In addition to Mixed Signal I/O module, PicoTAP Designer Studio includes PicoTAP Boundary Scan controller, which is powered via USB and can be plugged directly into I/O module. Hardware/software bundle also contains CION Module FXT-96/A and SYSTEM CASCON™ Basic/SX Development Station. Performance level can be extended from pure test in base version to additional applications such as in-system programming of small Flash and PLD or memory and cluster test.
Original Press Release
New Low-cost Boundary Scan Bundle for Technology Entry
Press release date: February 18, 2013
GOEPEL electronic now provides a special package for beginners in JTAG/Boundary Scan or users with cost-sensitive projects. PicoTAP Designer Studio is a complete Boundary Scan test system incl. hardware and software, offering an extremely reasonable price-performance-ratio. In addition to a Mixed Signal I/O module, the bundle contains the world's smallest Boundary Scan controller PicoTAP, which is powered via USB and can be plugged directly into the I/O module.

"Many interested parties have asked for a low-cost Boundary Scan starter package covering quite a number of applications.  Our PicoTAP Designer Studio reflects these demands impressively", says Stefan Meissner, spokesman for GOEPEL electronic GmbH. "Given that the bundle is able to cover a multitude of Boundary Scan applications, for instance prototype hardware debugging or interconnection test between BGA components, it suits for the design stage as well as small batch production. Furthermore, it presents an interesting solution for respective projects at universities and polytechnic colleges."

About PicoTAP Designer Studio:
The hardware/software bundle contains a PicoTAP controller, a CION Module FXT-96/A and a SYSTEM CASCON™ Basic/SX Development Station. Because of the included CION I/O module, analogue and digital peripheral ports can also be tested. Additionally, relays and Opto I/O are available to flexibly optimize test coverage.

Two package versions are available, i.e. users may choose their most beneficial version. The bundle's performance level can be extended from pure test (base version) to additional applications such as in-system programming of small Flash and PLD or memory and cluster test. Numerous hardware and software options are additionally available, so that the test unit's performance may grow with the application and investments are protected.

About JTAG/Boundary Scan:
Boundary Scan (IEEE Std. 1149.x) is a modern access method for the test and programming of complex circuits without mechanical probe access (non-intrusive). Boundary Scan is part of the Embedded System Access (ESA) strategies and is based on design-integrated test electronics. ESA technologies include techniques such as Chip Embedded Instruments, Processor Emulation Test, In-System Programming or Core Assisted Programming. They are currently the most modern strategies for validation, test and debug as well as programming of complex boards and systems. They can be applied throughout the entire product life cycle, enabling enhanced test coverage at reduced costs.

About GOEPEL electronic:
GOEPEL electronic is a worldwide leading vendor of innovative electronic and optical test and inspection systems, being the market leader for professional JTAG/Boundary Scan solutions for Embedded System Access (ESA). A network of branch offices, distributors and service partners ensures the global availability of the products as well as the support of the more than 8,000 system installations. Founded in 1991 and headquartered in Jena/Germany, GOEPEL electronic employs currently more than 200 employees and generated a revenue of 27 Million Euro in 2012 (ca. $37 Mio). GOEPEL electronic has continuously been ISO9001 certified since 1996 and has been honoured with TOP-JOB and TOP-100 awards for being one of the best medium-sized companies in Germany. GOEPEL electronic's products won several awards in recent years and are used by the leading companies in telecommunication, automotive, space and avionics, industrial controls, medical technology, and other industries. Further information about the company and its products can be found on the internet at www.goepel.com.

Press Contact:
GOEPEL electronic GmbH 
Goeschwitzer Str. 58-60/66
D-07745 Jena
Stefan Meissner
s.meissner@goepel.com
Tel: +49-3641-6896-739
Fax: +49-3641-6896-944
Email: press@goepel.com
URL: www.goepel.com