Product News: Communication Systems & Equipment
Bluetooth® Smart Module accelerates integration and development.
Press Release Summary: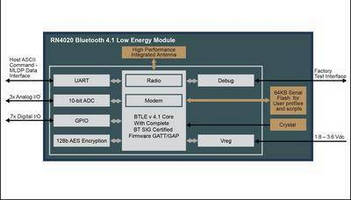 July 7, 2014 - Bluetooth® 4.1 Low Energy module, RN4020, integrates Bluetooth Low Energy (BTLE) stack and onboard support for common SIG low-energy profiles, which helps accelerate development and ensure Bluetooth compatibility. This 11.5 x 19.5 x 2.5 mm stack-on-board module also has built-in PCB antenna and comes pre-loaded with Microchip Low-energy Data Profile, which lets designers stream any type of data across BTLE link. Module can connect to any MCU with UART interface or operate standalone.

Original Press Release
Microchip Releases the RN4020 Bluetooth® Smart Module
Press release date: June 25, 2014
Integrates a Bluetooth 4.1 Low Energy stack for use with or without a host MCU

BANGKOK -- Microchip Technology Inc. [NASDAQ:  MCHP, a leading provider of microcontroller, mixed-signal, analog and Flash-IP solutions, has announced from the Sensors Expo its first Bluetooth(R) 4.1 Low Energy module( http://www.microchip.com/get/K6QA ). The RN4020 builds on the Company's deep Bluetooth Classic experience and carries both worldwide regulatory certifications and is Bluetooth Special Interest Group (SIG) certified. The integrated Bluetooth Low Energy (BTLE) stack and onboard support for the common SIG low-energy profiles speeds time to market while ensuring Bluetooth compatibility, eliminating expensive certification costs and reducing development risks. The module is also pre-loaded with the Microchip Low-energy Data Profile (MLDP), which enables designers to easily stream any type of data across the BTLE link.

Because the RN4020 is a stack-on-board module, it can connect to any microcontroller with a UART interface, including hundreds of PIC(R) MCUs, or it can operate standalone without an MCU for basic data collection and communication, such as a beacon or sensor. This standalone operation is facilitated by Microchip's unique no-compile scripting, which allows module configuration via a simple ASCII command interface -- no tools or compiling are required.

View a brief presentation on the RN4020: http://www.microchip.com/get/07BX

The designers of cost-sensitive embedded applications are looking for turnkey solutions that make it easy to add the low power consumption and simplicity of Bluetooth LE connectivity, which enables several years of operation from a single battery and has a large installed base of compliant smartphones, tablets and computers. Example markets that need these low-power wireless command-and-control solutions include home automation and appliances; medical and wearable devices; toys, tags, fobs and remote controls; pulse and proximity sensor-based systems; and even industrial applications.

Microchip's RN4020 Bluetooth LE Smart module includes all of the hardware, software and certifications that designers need to easily add this low-energy connectivity to any design, while easing End Product Listing (EPL) via QDID Bluetooth compatibility testing. All of the programmable profiles are stored and selectable on the module, including Microchip's flexible MLDP and the common Bluetooth SIG low-energy profiles. In addition to common public profiles, private services can be created via the ASCII command interface.  The RN4020 also provides a built-in PCB antenna with 7 dBm transmit power and a receive sensitivity of -92.5 dBm, enabling operation over 100 meters* in a compact form factor of only 11.5 x 19.5 x 2.5 millimeters.

"This industry-certified and compact BTLE module gives designers a convenient way to add the latest Bluetooth 4.1 wireless connectivity to their designs," said Steve Caldwell, vice president of Microchip's Wireless Products Division. "The RN4020 combines our comprehensive experience in user-optimized, low-NRE Bluetooth Classic modules with Microchip's industry-leading manufacturing capabilities and support infrastructure."

Development support

Microchip also announced the flexible RN4020 Bluetooth Low Energy PICtail(TM)/PICtail Plus daughter board (part # RN-4020-PICtail), which is available now. This board enables code development via USB interface to a PC, and over the onboard In-Circuit Serial Programming(TM) interface for Microchip's PICkit(TM) or MPLAB(R) REAL ICE(TM) tools. It also leverages customer investments in Microchip's existing development boards with a PICtail interface, such as the Explorer 16, PIC18 Explorer and PIC32 I/O Expansion Board. Additionally, the onboard eXtreme Low Power (XLP) PIC18 microcontroller allows the PICtail board to run in standalone mode, powered by USB from the host, enabling portable demonstrations and proofs of concept.

Availability

The RN4020( http://www.microchip.com/get/K6QA ) Bluetooth Low Energy module is available today in 1,000-unit quantities. The worldwide regulatory-agency and Bluetooth SIG-certified module measures 11.5 x 19.5 x 2.5 millimeters, and includes a built-in PCB antenna. For additional information, contact any Microchip sales representative or authorised worldwide distributor, or visit Microchip's website at http://www.microchip.com/get/K6QA. To purchase products mentioned in this press release, go to microchipDIRECT( http://www.microchip.com/get/NT42 ) (http://www.microchip.com/get/NT42) or contact one of Microchip's authorised distribution partners.

Resources

High-res images available through Flickr:

-- Module photo: http://www.microchip.com/get/KLX6

-- Pen & module photo: http://www.microchip.com/get/MS8R

-- Block diagram: http://www.microchip.com/get/10TV

-- Tool photo: http://www.microchip.com/get/XSD3

Video available through YouTube or editorial contact (feel free to post): http://www.microchip.com/get/6LR5

Follow Microchip

-- RSS Feed for Microchip product news: http://www.microchip.com/get/SGN8

-- Twitter: http://www.microchip.com/get/6AE8

-- Facebook: http://www.microchip.com/get/93V3

-- YouTube: http://www.microchip.com/get/FXSQ

*Results dependent on environment.

About Microchip Technology
Microchip Technology Inc. (NASDAQ:  MCHP) is a leading provider of microcontroller, mixed-signal, analog and Flash-IP solutions, providing low-risk product development, lower total system cost and faster time to market for thousands of diverse customer applications worldwide. Headquartered in Chandler, Arizona, Microchip offers outstanding technical support along with dependable delivery and quality. For more information, visit the Microchip website at http://www.microchip.com/get/CLU6.

Note: The Microchip name and logo, PIC, and MPLAB are registered trademarks of Microchip Technology Incorporated in the U.S.A. and other countries. PICtail, In-Circuit Serial Programming, PICkit, and REAL ICE are trademarks of Microchip Technology Inc. in the U.S.A. and other countries. All other trademarks mentioned herein are the property of their respective companies.

For more information, please contact:
Daphne Yuen (Microchip):
+852-2943-5115
email: daphne.yuen@microchip.come