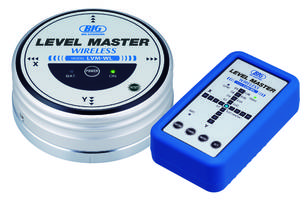 Level Master Wireless Leveling Device allows user to read leveling information from a separate display device. This unit enables simultaneous measurement with use of multiple detectors that support an accuracy of up to 0.01mm/1m. This Level Master comes with aluminum box for storage, alkaline batteries, device manual and an inspection sheet. Unit can transmit information to display devices up to...
Read More »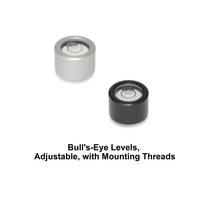 Used for checking horizontal position of jigs, machines, devices, appliances and instruments, GN 2280 Bull's-Eye Levels mounting threads are offset at 120° for allowing spirit levels aligned in relation to mounting surface. GN 2280 comes in aluminum housing with natural or black anodized finish. Designed with alignment ball at bottom surface of adjustment plate which acts as tilting point,...
Read More »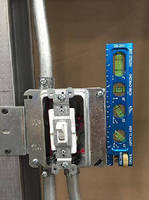 Available in 3.5, 6, and 9 in. lengths, Precision Levels eliminate dog-legs when making saddle or offset bends to electrical conduit. Two smaller models have integrated Thumb Winder™ conduit wheel featuring contoured screw that hugs conduit's surface for firm, stable hold. CNC machined from 6061 T6 aluminum billet for absolute straightness and protected with anodized corrosion-resistant...
Read More »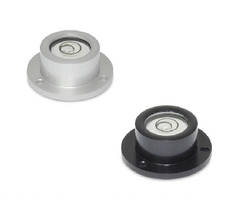 Available in metric sizes, GN 2277 Bulls-Eye Levels check horizontal position of jigs, machines, devices, appliances, and instruments. Spirit levels are aligned in relation to reference surface so bubble is located inside marking ring when horizontal position of contact surface is achieved. RoHS-compliant units have sensitivity of 30 angle minutes, with bubble able to move by 2 mm. Housed in...
Read More »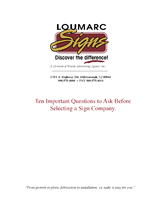 This white paper outlines 10 questions that should be asked when selecting a sign company, eliminating some of the guesswork from making the best choice for your branding and signage needs.
Read More »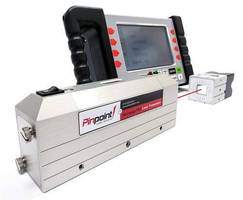 Comprised of- laser transmitter, digital receiver, and smart display, Microgage PRO enables measurement and alignment of long assemblies, machinery, and fixtures over long distances. Laser beam forms straight reference line for machine or assembly, and each of 4 receivers measures in 2 axial directions: horizontal and vertical (X and Y). Laser beam path can be few inches up to...
Read More »
MOHR EFP-IL SFPI System provides precision water level measurements up to 1,000 ft. from pool RICHLAND, Wash. - MOHR Test and Measurement LLC (MOHR), a supplier of guided-wave radar liquid-level and void-fraction sensors for nuclear and other industrial applications, announced the recent successful installation of its EFP-IL Spent Fuel Pool Instrumentation (SFPI) System at the Donald C. Cook...
Read More »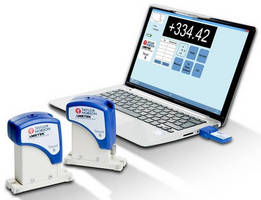 Reading of angle of tilt and measurements relative to gravity with accuracy of 0.2 arc sec over center measuring region, Talyvel 6 interfaces directly to- touchscreen computer and can be used in wireless mode. Unit weighs
Read More »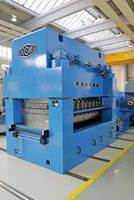 GEORG finishing lines division develops advanced high performance leveler The processing of blanks in laser quality with plasticity degrees of up to 80% inside the material to be leveled and a high relief of stresses for further processes represented the challenges to be mastered by Heinrich Georg GmbH Maschinenfabrik for Tata Steel Service Centre UK. Together with its daughter company Heinrich...
Read More »
Equipped with waterproof, shock-resistant casing, CHANNELLOCK® Levels include 8.25 in. 620L Professional Laser Level, 8.25 in. 620 Professional Level, and 8.5 in. 615 Professional Torpedo Level. Four rare-earth magnets keep level in place during installation, while V-Groove design enables pipe and conduit mounting. Laser on Model 620L lasts up to 10,000 hr and is accurate to -¼ in. at 100 ft....
Read More »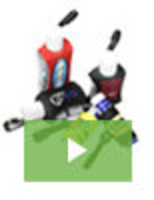 Neagle Choice has long been known as a quality source for commercial sewing, printing, die cutting, and the manufacturing of a wide range of custom products. Enhancing our service capabilities has been the key to our success, and has driven our growth into many new and exciting markets. Continuing on this trajectory, we now offer precision laser cutting and etching, adding to our long line of manufacturing services. See our video to learn all about it.
Read More »