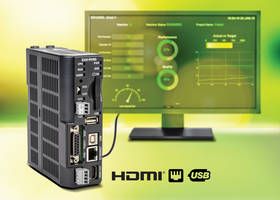 Includes 2 serial ports, USB 2.0 Type A and B ports, built-in SD memory card slot and one ethernet port. Compatible with EA9-PGMSW programming software. Supports an HD1280x720 pixel screen resolution with an HDMI output that supplies video and audio out.
Read More »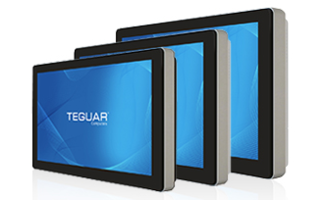 One of Teguar's most popular medical computer series, the TM-5040 Series, is now available with 4th Edition 60601-1 medical certification. Previously, Teguar offered the series with 3rd Edition certification.  With 4th Edition IEC 60601-1 / EN 60601-1 / UL 60601-1 certification, these computers meet higher standards for electrostatic discharge and ensure the highest level of patient and user...
Read More »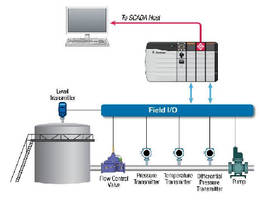 With Enhanced Flow Computer for ControlLogix-® systems, customers can use single in-chassis module and avoid multiple RTUs and standalone flow computers. Users can also take advantage of Rockwell Automation's distributed I/O capability and ProSoft's wireless radios to minimize wiring to transmitters and I/O devices. To help save time, flow computer allows for remote configuration and diagnostics...
Read More »
Capable of displaying- true 1080p hd resolution, 21.5 in. industrial IP65 black powder coat and IP66, 316 stainless steel panel PCs support- various touchscreen technologies and operate from +45 to 0-
Read More »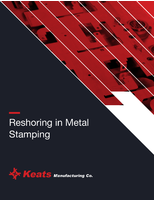 This white paper provides an overview into the reshoring of metal stamping and other manufacturing processes.
Read More »

Based on 4th generation Haswell Processor and Q87 Chipset,- FES8670 has rugged aluminum and heavy-duty steel chassis- and operates from -40 to +131-
Read More »
Powered by Intel-® Atom™ E3845 1.91 GHz processor- with integrated chipset, Model ARC-1209 supports one 204-pin DDR3L SODIMM system memory with up to 8 GB capacity. Unit includes 1 USB 3.0 port, 3 USB 2.0 ports, and 2 COM ports as well as 1 SATA II, 1 WiFi, and 1 Mini PCIe supporting mSATA. PC supports optional dual display (HDMI + LVDS) and provides 2 LAN ports supporting Intel I210IT....
Read More »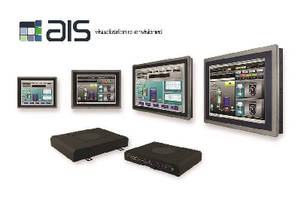 Available with single and multi-touch displays ranging from 15–21.5 in., Premium Series of HMIs are based on Intel-® Core™ i7-4650U processor with 4M Cache up to 3.30 GHz. Units are equipped with 2 removable hard drives and additional 32 GB m-SATA SSD, as well as PCIe slot for expansion. Modular design allows customers to modify, change, or upgrade systems, depending on...
Read More »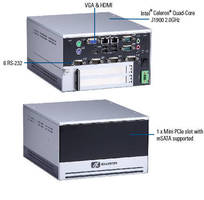 Powered by 2.0 GHz quad core Intel-® Celeron-® J1900 (Bay Trail) CPU, eBOX638-840-FL integrates Intel HD Graphics engine and comes with one DDR3L SO-DIMM system memory up to 8 GB max, one full-size internal PCIe Mini Card slot, and 2 SMA type antenna openings. PC operates from 16–28 Vdc supply and over -10 to +55-
Read More »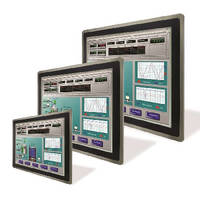 AIS Develops Three New Series of Smart Touchscreens Dedicated to Enabling IIoT, M2M, Industry 4.0 and IT Convergence Applications for Industrial OEMs/ODMs and End-Users IRVINE, CALIFORNIA - American Industrial Systems, Inc. (AIS), the leading manufacturer of single and multi-touch touchscreens, HMIs and touch-panel PC solutions has developed three new series of HMIs specifically engineered to...
Read More »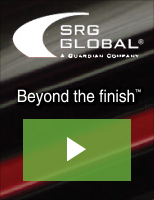 SRG Global's automotive coatings enhance the structural integrity of the finished part while also improving vehicle efficiency. Check out our video to learn more.
Read More »