HMI Terminal and Controller feature touchscreen display.
Press Release Summary: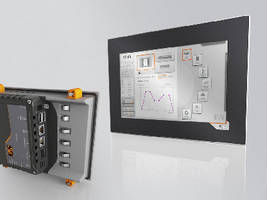 Equipped with embedded browser, Power Panel T30 Terminal is web compatible and can be used as VNC client. Unit offers 4 TFT display sizes from 4.3–10.1 in. and comes with 2 Ethernet interfaces, 2 USB ports, and array of configuration options. Powered by 333 MHz Intel® Atom™ CPU, Power Panel C70 Controller includes 256 MB DDRAM, 16 KB FRAM, and 2 GB flash EEPROM. Device comes in 3 display sizes from 5.7–10.1 in. and includes POWERLINK and standard Ethernet, 2x USB 2.0, and X2X Link technology.
---
Original Press Release:

B&R Expanding the Successful Power Panel HMI Family



Terminal and controller designs with touch screen



B&R is adding two new series to its successful Power Panel HMI family: Power Panel T-Series terminals and Power Panel C-Series controllers – both featuring touch screens. Equipped with an embedded browser, the Power Panel T30 terminal is fully web compatible and can even be used as a VNC client. The terminal series is being offered with four TFT display sizes ranging from 4.3" to 10.1" and comes with two Ethernet interfaces, two USB ports and an extensive array of configuration options.



High-performance HMI with a wide range of connection options

The Power Panel C70 controller is equipped with a 333 MHz Intel® AtomTM CPU, 256 MB DDRAM, 16 kB FRAM and 2 GB onboard flash EEPROM memory. This controller provides a built-in touch screen and is being offered in three display sizes ranging from 5.7" to 10.1". In addition to achieving cycle times as low as 1 ms, the Power Panel C70 also features POWERLINK and standard Ethernet, 2x USB 2.0 and X2X Link technology as well as optional RS232, RS485 and CAN connections to offer a wide range of possibilities for peripheral devices.



Both of these device series have an extremely compact design, minimal installation depth and an intelligent cable outlet arrangement, making these panels easy-to-mount space savers. And because these two new series do not have hard disks, fans or batteries, they are completely maintenance-free. The panel front provides IP65 protection, which makes these systems extremely suitable for hygienic applications.



B&R Industrial Automation Corp.

Attn: Yvonne Eich, Marketing & Communications Coordinator

1250 Northmeadow Parkway, S-100

Roswell, GA 30076



B&R company profile

B&R is the world's largest and most successful private company in the area of automation equipment manufacturing. The motto "Perfection in Automation" has provided the foundation for the company since B&R was founded in 1979. Today, B&R employs 2,500 employees worldwide and has an exceptional global presence with 175 sales offices in 75 countries.



As a global leader in industrial automation, B&R combines state-of-the-art technology with advanced engineering to provide customers in virtually every industry with complete solutions for machine and process automation, motion control, HMI and integrated safety technology. With industrial fieldbus communication standards like POWERLINK and openSAFETY as well as the powerful Automation Studio software development environment, B&R is constantly redefining the future of automation engineering.



B&R Industrial Automation, Inc. North America, based in Atlanta, GA, has been working closely with its customers since 1987. Since then, B&R North America has continuously grown as a sales and support organization through both direct sales offices and B&R's unique Automation Partner distribution network. Today, B&R North America has a network of more than 25 offices throughout the USA and Canada and is there for its customers locally.   For more information, please visit www.br-automation.com.