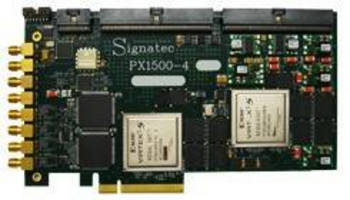 Featuring 2 GB on-board memory configured as large FIFO and PCIe x8 bus, PX1500-4 A/D Board captures 4 synchronized channels at sampling rates up to 1.5 GHz, or 2 synchronized channels up to 3 GHz when interleaving ADC data. Board can continuously sustain long recordings at up to 1.4 GB/s through PCIe x8 bus to PC disk storage without break in analog record. Frequency synthesized clock allows ADC...
Read More »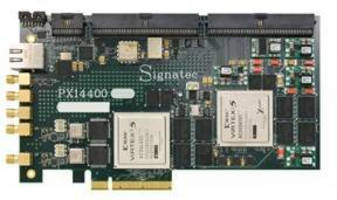 Equipped with 2 Virtex-5 FPGAs, PX14400 A/D Board captures signal frequencies up to 200 MHz when using programmable gain amplifier in 1 dB steps, or up to 400 MHz if direct transformer coupled connection is employed. One GB on-board memory configured as large FIFO and PCIe x8 bus ensures board can continuously sustain recordings at over 1.2 GB/sec through PCI x8 bus to PC disk storage without...
Read More »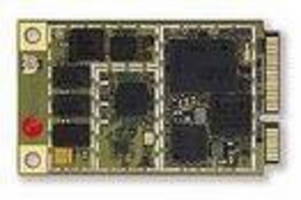 Supporting global GSM and UMTS standards, N725 wireless communications reference design has PCIe Mini Card form factor and fosters integration of high-speed cellular communications - HSDPA, EDGE, GPRS - into computers and Mobile Internet Devices (MIDs). It supports 7.2 Mbps downlink and 384 kbps uplink speeds and is also suitable for high-speed telematics applications. Solution employs baseband...
Read More »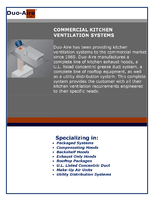 If you can't stand the heat, don't get out of the kitchen! Download this white paper and see how you can improve your commercial kitchen ventilation system.
Read More »
Implemented in FPGA logic, combined with bus master capable PCI interface, TAMC863 AMC.1-compliant module supports several serial communication protocols on each channel, including asynchronous, isochronous, synchronous, and HDLC mode. Max data rate of 10 Mbps is provided for synchronous protocols and 2 Mbps is supported for asynchronous protocols. Operating from -40 to +85-
Read More »
Providing 32 or 16 channels of 16-bit analog outputs, single-wide 32-bit Model TPMC554 features software selectable output voltages of 0-5, 0-10, 0-10.8, -
Read More »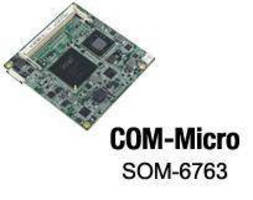 Irvine, California, January. 14, 2010 - Advantech, a leading provider of embedded platform and integration services, announces today its new full range of embedded boards based on the new generation of Intel-® Atom(TM) N450/D510 processors. The Advantech Atom processor-based platforms range from Computer-On-Modules and 3.5 /5.25 Single Board Computers to Industrial Motherboards. These low-power...
Read More »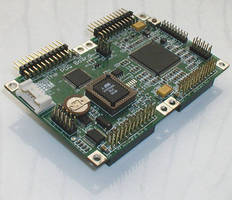 Measuring 2.5 x 4 in., PDQ Board(TM) includes Motorola 68HCS12 processor, 1 MB memory, and dual-expansion I/O buses. It has 8 digital I/O lines with counter/timer capabilities, 8 PWM digital output signals, and 8 general purpose digital I/O lines. Unit also has 16 analog inputs with 10-bit resolution, dual RS232/485 ports, and synchronous SPI and IIC serial interfaces. Up to 8 I/O modules, called...
Read More »
Consuming 10 W (typ), XP A40/x03 board features Intel-® System Controller Hub US15W, up to 2 GB DDR2-533 SDRAM and 4 GB NAND Flash, as well as various I/O interfaces. It can be used on PMC/XMC carrier board or on host CPU board. Solution interfaces to various base boards via 64-bit PCI/PCI-X (up to 133 MHz) interface with PMC option or via x1 PCIe-® interface with XMC option. PMC supports...
Read More »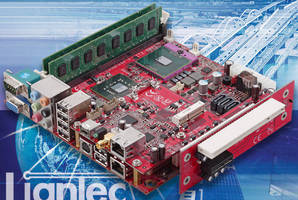 Featuring 4 x1 PCIe and 2 PCI bus interfaces, TBM-X2000 Tiny-Bus-® 1U low profile 2-slot PCIe/PCI extension module makes it possible to let Mini-ITX SFF platforms support optional dual PCIe/PCI expansion slots within 1U or 1.75 in. of system height. Solution is also integrated with onboard PCIe Intel Gigabit Ethernet, PCIe IEEE1394b FireWire 800, and PCIe MiniCard socket with external SMA...
Read More »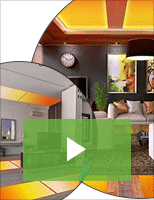 Carbontec's paper-thin radiant heating systems reduce energy consumption costs by warming the building surfaces instead of controlling air temperature. Check out our video to learn more.
Read More »