Display Controllers for High Speed Serial Interfaces, EMI Filters and ESD Protection Devices Will Be Highlighted SAN DIEGO, Oct. 1 / - CMD Booth # 5 - California Micro Devices (NASDAQ:CAMD), a leading supplier of application specific analog semiconductor products for mobile handsets, personal computers and digital consumer electronics, will be showcasing its MDDI and MIPI client solutions for...
Read More »
Advanced digital certificates help secure new biometrics to be stored on next evolution of e-passports DALLAS, Oct. 1 / - Domestic and global security threats, coupled with rapidly emerging standards and technology, are leading governments across the world to pursue the issuance of more sophisticated machine readable travel documents (MRTDs) to their citizens. Entrust, Inc. (NASDAQ:ENTU), a...
Read More »
Complete In-Circuit Debugging and Programming Solution for Microchip's PIC16Fxx and PIC18Fxx PIC-® MCUs Mansfield, Texas, USA - October 1, 2007 - Mouser Electronics, Inc., known for its rapid introduction of the newest products, today announced it is stocking the DLP-FLASH2 debugger and programming device from DLP Design, a leading designer of solutions utilizing the latest technology in USB...
Read More »
Enables End-to-End, Seamless Physical & Logical Identity Integration & Interoperability. Las Vegas, NV (September 24, 2007) - Quantum Secure, Inc. the leader in physical and IT security identity convergence, announced the general availability of the company's SAFE Agent for Sun Microsystems' Java(TM) Identity Manager. The solution enables the use of Sun's Java Identity Manager with Quantum...
Read More »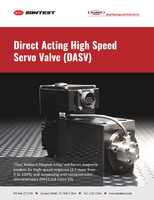 Download this paper to learn about how high performance servo valve's can be used in your most demanding hydraulic and pneumatic applications.
Read More »
Designed to facilitate profiling process, Surveyor consists of fixed sensors that eliminate variables associated with thermocouple attachment, adjustable frame that rides on oven's rail or mesh belt, and software that automatically stores profiles for analysis. Using sensors, Surveyor can identify out-of-tolerance conditions before they become problematic.
Read More »
TI digital signal controllers and analog solutions provide innovation for higher energy efficient industrial applications BANGALORE, India, Oct. 4 Texas Instruments Incorporated (TI) (NYSE:TXN) has made it easy for engineers to evaluate and develop software on its recently introduced floating-point TMS320F2833x digital signal controllers (DSCs) by introducing the F28335 eZdsp(TM) starter kit. Now...
Read More »
FREDERICKTOWN, OHIO, September 21, 2007 - Divelbiss Corporation, serving the electronic and industrial control industry since 1974, announces availability of OptiCAN a dedicated CAN network protocol which allows all CAN enabled PLC on a Chip® based products to interact. The basic protocol is now standard in the Divelbiss EZ Ladder® software and allows for up to ten (10) nodes in the OptiCAN...
Read More »
Modern production and processing machines are required to satisfy ever-increasing demands for productivity, cost effectiveness and flexibility. Shorter throughput times and faster retooling are expected norms for an efficiently-operating plant. Eliminating costly disturbances and downtime resulting from maintenance work, or the lack of it, is critical to maintaining process flow and...
Read More »
PARIS Platform Offers Designers a Flexible Solution for Incorporating Intellectual Property Into Car Multimedia Systems SAN JOSE, Calif. and STUTENSEE, Germany, Oct. 10 -- Altera Corporation (NASDAQ:ALTR) and TRS-STAR GmbH today announced the PARIS development platform, the industry's first fully scalable infotainment platform for the automotive market. Featuring an Altera(R) Stratix(R) II FPGA,...
Read More »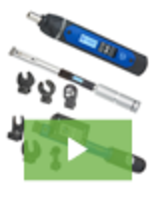 Sturtevant Richmont's torque tools help customers cut rework and warranty costs while increasing throughput.
Read More »