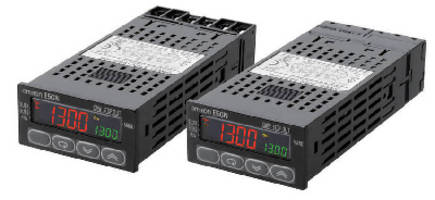 E5GN-T Series accepts universal temperature sensor inputs, while E5GN-L Series accepts analog inputs to support process control applications. Units offer indication accuracy of ±0.3% when used with thermocouples and ±0.2% for all other input types. Additional features include heater burnout alarms and event inputs, as well as provisions for 2 independent alarm outputs. Sampling period and loop...
Read More »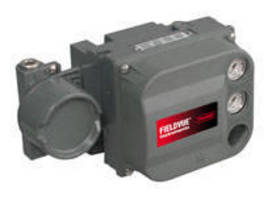 Featuring linkage-less, non-contact feedback technology, FIELDVUE(TM) DVC6200 Series is designed for applications that experience high levels of vibration, corrosion, or material entrapment. Unit is available with either HART or FOUNDATION fieldbus communication protocol. It has undergone EMC testing to meet IEC standards and includes CE mark.
Read More »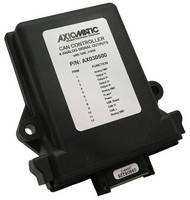 Read analog sensors with the 1 Universal Signal Input - CAN control. Axiomatic announces the release of a new SAE J1939 or CANopen® I/O control with 4 analog signal outputs, part number AX030500 and AX030501 respectively. These controllers are part of a growing line of low cost and compact rugged distributed I/O controls packaged for harsh operating environments. Other new models include a CAN...
Read More »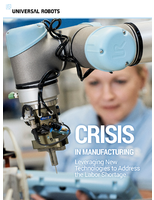 To learn more about collaborative technology solutions for your business and how Universal Robots can help, download this white paper now.
Read More »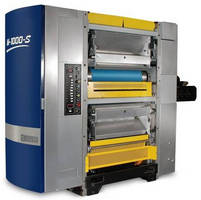 Using Siemens servo controls package and mechatronics service, retrofitter transforms printing press for Ovid Bell Located in Effingham, Ill., B&L Machine & Design specializes in the remanufacturing of various printing presses and ancillary equipment. Its particular expertise is on the Harris M-1000 and M-110 series presses, as well as splicers, infeeds, chillers and folders. By redesigning all...
Read More »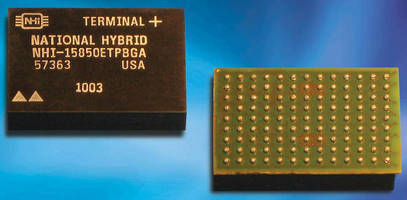 Measuring 1.05 x 0.75 x 0.185 in., Terminal+ can function as simultaneous monitor/remote terminal, programmable bus controller, remote terminal, or bus monitor. It has integrated transformers and ensures integrity of all data and control structures. Serving as interface between dual redundant bus and host processor, solution only requires 20 MHz clock as external component and supports...
Read More »
Refurbishment to extend life of energy-efficient HVDC power link and enhance grid reliability Zurich, Switzerland, Feb. 15, 2010 - ABB, the leading power and automation technology group, has won an order worth $107million from SNEL (Société Nationale d'Électricité), the national power company in the Democratic Republic of Congo, to upgrade key technology on one of the world's longest...
Read More »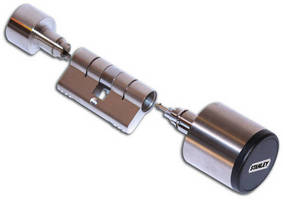 Offered as stand-alone or networked device, ePAC Cylinder(TM) converts any Euro profile mechanical cylinder lock into electronic proximity cylinder device within minutes. It can replace existing key-based manual cylinders without replacing entire lock and facilitates key management while accelerating access rights management. Stand-alone usage accommodates up to 200 key holders, while connection...
Read More »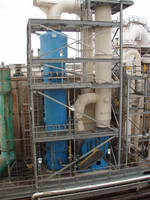 Bionomic Industries, Inc., a leading manufacturer of cutting edge scrubber systems technology, has been selected by a major Southern pulp and paper company to supply their patented, advanced design RotaBed(TM) Fluidized Bed Gas Gleaning Technology to control pulp bleach plant emissions at two of their mills. Designed to remove fugitive chlorine and chlorine dioxide created during pulp bleaching,...
Read More »
Bionomic Industries, Inc., a leading manufacturer of cutting-edge scrubber systems technology, has announced successful startup of an advanced fluidized slurry sulfur dioxide (SO2) gas scrubber at a facility in Western Pennsylvania. The compact, highly efficient scrubber utilizes Bionomics' patented RotaBed(TM) technology to harness the movement of the flue gas to provide both mixing and gas...
Read More »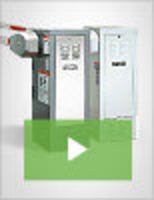 DoorKing is proud to introduce an easy add-on to its 1601 Barrier Gate Operator: The 1601 Traffic Lane Barrier. The barrier gate provides greater traffic control while eliminating the need for bollards or crash beams. Check out this video to learn more.
Read More »