Vinculum-II delivers increased capabilities and memory at a reduced cost Mansfield, Texas, USA - Mouser Electronics, Inc., known for its rapid introduction of the newest electronic components and technologies, today announced it is stocking the Vinculum-II Embedded Dual USB Host Controller IC from FTDI, a specialist in easily converting legacy peripherals to USB. Mouser's stock includes the FTDI...
Read More »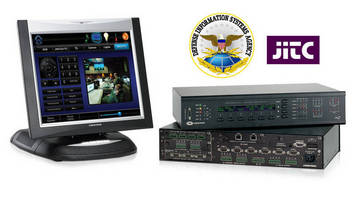 Crestron Control Systems and Touch Panels Awarded JITC Information Assurance Certification for Top Security Clearance; Earns Department of Homeland Security's Highest Compliance Rating on Vulnerability Assessment Results Rockleigh, NJ - Crestron today announced that its advanced control systems and touchpanels received approval by the Joint Interoperability Test Command (JITC) of the U.S....
Read More »
Critical Emerson inverter technology converts DC power from solar arrays to AC power ST.LOUIS - Emerson (NYSE: EMR) has been awarded a contract to supply power inverters and plant-wide controls for what will be California's largest photovoltaic power generation facility and one of the largest in the world. Quanta Services (NYSE: PWR) awarded the contract to Emerson for the zero-emission solar...
Read More »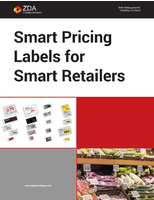 To learn more about ESLs and how companies like ZDA Communications can help, download this whitepaper now.
Read More »
Meets Strict Standards of Performance for Access Control System Units NEW HAVEN, CT, October 29, 2010 - SARGENT Manufacturing Company (www.sargentlock.com), a market leader in locksets, cylinders, door closers, and related products, and an ASSA ABLOY Group company, announces that its Harmony Series Integrated Wiegand Locks have received UL 294 certification. As the Underwriters Laboratories (UL)...
Read More »
New Pronto Product Combines with Wiegand Compatible Standard And Biometric Readers. (Samsung SSA-S1000) (Samsung SSA-R2000v) (Samsung SSA-R2010) (S2 Pronto) Dallas, TX - Samsung Techwin America, a global supplier of video surveillance products combining superior performance and value, is entering the physical access control market through a new partnership with fellow security visionary, S2....
Read More »
Complete solution provider Rockwell Automation unveils latest control capabilities that help improve machine performance, flexibility and longevity MILWAUKEE, Oct. 25, 2010 - Rockwell Automation will demonstrate at PACK EXPO 2010 how machine builders can lower their Total Cost to Design, Develop and Deliver packaging machinery using a scalable, multidisciplined control and information system....
Read More »
Nashua, N.H. - NextComputing, a leader in high-performance portable and small form-factor servers and workstations, is now integrating and supporting the latest line of LSI(TM) 6Gb/s SATA+SAS high-port count storage controllers, including the LSI MegaRAID-® SAS 9260-16i RAID controller. By offering this cutting edge storage controller technology from LSI, NextComputing can pack massive internal...
Read More »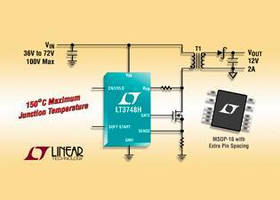 With input range of 5-100 V, Model LT3748H operates in boundary mode, current-mode control switching scheme, resulting in -
Read More »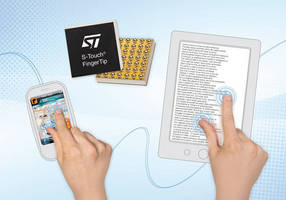 Single-chip S-Touch-® FingerTip controller supports unlimited simultaneous touches, multitouch actions such as pinch-to-zoom, and stylus operations. Widescreen capacitive touchscreen controller utilizes noise cancellation to support on-cell LCD technology without requiring ground shielding layer between display and touch sensor. Offered in QFN 56, 7 x 7 mm or flip-chip CSP 49, 3 x 3 mm packages,...
Read More »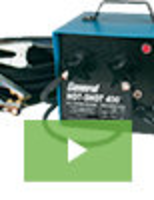 The new Hot Shot Pipe Thawing Machine delivers an innovative and highly effective approach to thawing frozen pipes. Easy to use and versatile, it is loaded with robust features that further suit it to many challenging environments. To learn all about it, see our video.
Read More »