Zappix, Inc. Visual IVR Implemented by Major International Logistics Company to Improve Self-Service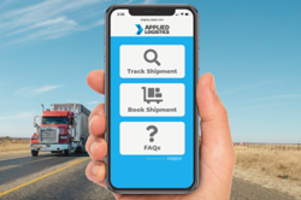 A major international logistics company has implemented Zappix Visual IVR to improve Customer Experience
Burlington, MASS. (PRWeb) January 23, 2019
Transformative Visual IVR vendor Zappix, Inc. has implemented its On-Demand Customer Service Solutions with a major international logistics company in North America. The 3,000 employee company uses the Zappix cloud-based solution to improve customer service and increase customer satisfaction for those looking to track a shipment, access their knowledge base, or schedule a call with a sales agent.
The Zappix Visual IVR solution allows customers calling the company call center to enjoy an easy-to-use visual interface through a Zappix On-Demand App, and avoid the need to speak with an agent. This implementation is part of a suite of services offered by Zappix for the Logistics & Services Industry and enables self-service for multiple use cases, including:
Shipment tracking
Freight tracking
Booking shipments
Account management
FAQ
"Zappix provides great value to Logistics & Services companies that have a high volume of interactions with their customers," said Yossi Abraham, Zappix president. "Our Visual IVR self-service customer care solution streamlines the customer journey during contact center interactions and frees agents from handling tedious, low-value inquiries so they can focus on complex, high-value interactions. Built on Robotic Process Automation (RPA) technology, our solution improves self-service, contains the majority of customer service calls, and lowers contact center costs."
The new Zappix implementation is actively increasing customer satisfaction and is now available to customers of the international logistics company in both English and French.
About Zappix
Zappix provides On-Demand Customer Service Solutions, using Visual IVR, On-Demand Apps, Outbound Engagement and Robotic Process Automation. The cloud-based solutions improve the customer journey during contact center interactions. The open platform enables workflow automation, rapid deployments, and seamless integration to back-end systems (CRMs, ERPs, etc.), and IVRs, and provides a comprehensive Analytics Suite.
The Zappix solution provides significant benefits and ROI: reducing costs by increasing containment rates for contact centers, improving customer experience and Net Promoter Score (NPS), creating new revenue opportunities using targeted promotional banners and automation of revenue generating use-cases.
To learn more about Zappix, go to https://www.zappix.com
Contact:
Zappix, Inc.
Johnny Rosa, Marketing @ Zappix
+1 (781) 739-2770
More from Agricultural & Farming Products