XPert(TM) Bulk Powder Enclosures Provide User Protection During Powder Transfer Operations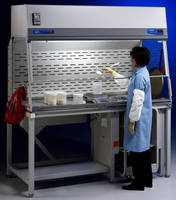 XPert Bulk Powder Enclosures provide user protection from hazardous airborne particulates and fumes generated during powder transfer operations. Exclusive features include an ergonomic air foil with aerodynamic Clean-Sweep(TM) airflow openings that create a constant, protective barrier from contaminants; upper dilution air supply with by-pass air that bathes the back of the sash with clean air; upper containment sash foil that lowers concentrations near the user's breathing zone and a zoned perforated rear baffle that directs inflow air in non-turbulent laminar streams.

The Enclosures include a base stand and transfer caddy. A push-button operates an electric hydraulic lift mechanism that raises the container to the proper ergonomic height. An electronic beam senses the location of the container and triggers the lift mechanism to automatically stop at the proper access height. The stainless steel work surface has a spill trough and offers a right-side, center or left-side mounted access opening for the source container.

The frame is of sturdy glacier white and gray, dry powder epoxy-coated exterior. Tempered safety glass front sash and sides offer excellent visibility. The ergonomic angled sash has sealed gas-assisted springs that may be lifted upward and locked to a loading height of 28". Other features include a generous 30" interior depth and are available in 5', 6' and 8' widths. The XPert Bulk Powder Enclosure may be ducted to the outside via a filtered house exhaust system or connected to the FilterMate(TM) Portable Exhauster outfitted with HEPA and/or carbon filter(s).

For more information on our full line of XPert Powder Enclosures, Filtered Systems and Filtered Stations call 800-732-0031 or visit our website at www.labconco.com.

More from Materials