X-Ray Tube Analyzer grades metals and displays chemistry.
Press Release Summary: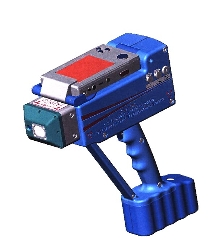 Hand-held, portable Alloy Checker provides grade identification, chemistry, and spectrum collection and display within seconds of coming into contact or proximity with metal or alloy. Miniature X-ray tube produces 35 kV of accelerating energy. Analyzer includes PDA computer and Windows CE(TM) interface. It can be used for process control, incoming/outgoing inspection, or quality control. It performs, stores and analyzes more than 10,000 assays in 3-shift operation.
---
Original Press Release:
EDAX Inc. Introduces Alloy Checker - The Most Powerful Hand-Held X-Ray Tube Analyzer Available

Mahwah, New Jersey - EDAX Inc., a leading supplier of hand-held portable X-ray fluorescence products, has introduced the revolutionary Alloy Checker X-ray tube analyzer.

Weighing less than 2.0 kg, the Alloy Checker incorporates the latest advances in miniaturization and digital pulse processing with a miniature X-ray tube capable of producing 35kV of accelerating energy.

The Alloy Checker revolutionizes the methodology of metals characterization. The rugged, lightweight water-resistant unit is precise, accurate, and fast. Grade identification, chemistry and spectrum collection and display are obtained within seconds of coming into contact or close proximity with a metal or alloy.

The Alloy Checker offers the capability of a multi-source instrument without the regulatory issues. The ergonomically designed unit incorporates a PDA (Personal Device Assistant) computer making the GUI user friendly regardless of the country of use. The Windows CE(TM) user interface allows for fast and simple operation.

The Alloy Checker classifies, identifies, matches, and provides concentrations of alloys within seconds. It also collects a spectrum of the sample and easily identifies elements present for further confirmation and/or review. A comprehensive standards library comes pre-loaded permitting out-of-the-box analysis of metals. And for those who need additional standards, the instrument offers an optional built-in capability that permits operators to quickly build their own User Library.

The Alloy Checker can be used on the manufacturing line for process control, on the shop floor or scrap yard for incoming/outgoing inspection, or on the dock for quality control. It can perform, store and analyze more than 10,000 assays in a three-shift operation, making it the most versatile and user-friendly metal analyzer of its kind.

EDAX is a premiere manufacturer and supplier of microanalysis equipment, electron backscattered diffraction products and a complete line of X-ray fluorescence analyzers for process monitoring, bulk and micro analysis, and coating/plating. EDAX designs, manufactures, install and services the highest quality products for such industries as electronics, semiconductor, security, forensic, environment, metals, geological, aerospace, pharmaceuticals, universities, and governmental agencies.

Since 1962, EDAX has used its industry-leading experience and expertise to develop systems and software for diverse applications, including the development of the transistor, Apollo moon program, alloy and superconductor research, and human genome project.

EDAX is a unit of AMETEK Process & Analytical Instruments. AMETEK, Inc. is a leading global manufacturer of electronic instruments and electric motors with annual sales of more than $1billion.

For further information contact:

Tony Williams

EDAX Inc.

91 McKee Drive
Mahwah, New Jersey 07430

Tel: (201) 529-4880
Fax: (201) 529-3156

E-mail: info@edax.com
Website: www.edax.com

More from Sensors, Monitors & Transducers