Wurth Introduces Current Sense Transformers with 1500Vrms Dielectric Between Primary and Secondary Windings
Press Release Summary: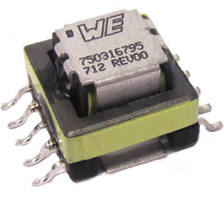 Wurth's MID-SNS Current Sense Transformers are available in 1:50, 1:100, 1:150 and 1:200 turn ratios with inductances ranging from 1.4 mH to 22.4 mH. Units come in 14.48 mm x 20.2 mm footprint with a profile height of 10.5 mm. The transformers are operated between 50khz to 500khz in -40°C to 125°C temperature range with a sense up to  current of 40 A.
---
Original Press Release:
New Current Sense Transformers Now Available at Wurth Electronics Midcom
Watertown (USA), 5 July 2018 – Wurth Electronics Midcom is proud to announce the release of additional Current Sense transformers to the MID-SNS family.
"These surface mount transformers are designed to operate between 50khz to 500khz and sense up to 40A of current. The turns ratios offered are 1:50, 1:100, 1:150 and 1:200 with Inductances ranging from 1.4mH to 22.4mH. Compared to current sense resistors, these parts have much lower power dissipation and provide galvanic isolation." explained Swaroop Vaidyanath, Product Manager at Wurth Electronics Midcom.
These 40A MID-SNS transformers are built on a compact platform with a footprint of 14.48mm x 20.2mm and low profile height of 10.5mm. These parts have low primary DC resistance and meet 1500Vrms dielectric between the primary and secondary windings. These transformers have an operating temperature of -40°C to 125°C and are RoHS and REACH compliant.
These transformers are best suited for switch mode power supplies, precise current measurement, feedback control, circuit protection and monitoring, and high reliability equipment applications.
Free samples can be requested at www.we-online.com/midcom.
About Wurth Electronics Midcom, Inc.
Wurth Electronics Midcom is a global leader in the design and manufacture of custom magnetics. A standard line of magnetics is offered, including inductors, ferrites, chokes, and EMI shielding materials. Recently, the electromechanical and interconnect line was added to the product offering, which includes Board-to-Board, Wire-to-Board, Terminal Blocks, and Input/Output Communication.
Customers in Asia, Europe and the Americas are supported through a local direct technical sales network, regional design and applications engineers and manufacturing based in the People's Republic of China.
Our standard lines and custom-made transformers are used around the world in LED lighting, smart grid and utility metering, industrial controls, telecom (CPE and CO), home automation, and home appliances.
Wurth Electronics Midcom offers all catalog products in stock. Free samples are offered to customers on connectors and both catalog and custom magnetics.
Further information at www.we-online.com
Further information:
Wurth Electronics Midcom, Inc.
Lindsey Esche
121 Airport Drive
PO Box 1330
Watertown, SD 57201 USA
Phone: +1 605 886 4385
Toll-free (in the U.S.):
Phone: +1 800 643 2661
E-mail: lindsey.esche@we-online.com
www.we-online.com
Press contact:
HighTech communications GmbH
Brigitte Basilio
Brunhamstrasse 21
81249 Munich
Germany
Phone: +49 89 500778-20
Fax: +49 89 500778-77
E-mail: b.basilio@htcm.de
www.htcm.de
Related